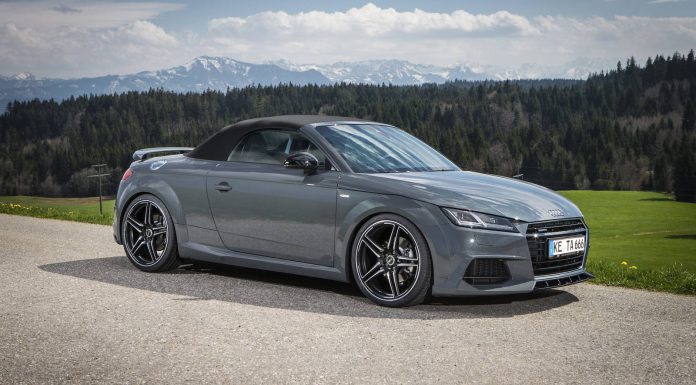 After the 2015 ABT Audi TT coupe was revealed late last year, the tuning firm has just revealed the 2016 ABT Audi TT Roadster. Obviously based around the drop-top variant of the popular sports car, ABTs latest creation combines visual and aerodynamic modifications with performance oriented upgrades.
In standard specification, the entry-level petrol-powered third-generation Audi TT delivers a total of 230 hp and 370 Nm of torque from its 2.0-litre TFSI four-cylinder engine. Thanks to a comprehensive tuning program however, ABT has managed to increase that to 310 hp and 440 Nm. Such figures actually make ABTs entry-level TT Roadster more powerful than the U.S-spec TTS Roadster which delivers 292 hp.
Beyond the engine changes, ABT has also revealed a range of aerodynamic parts for the car. They include a new front bumper skirt, custom wing mirror covers, new side skirts, an eye-catching rear wing and an aggressive rear bumper. Elsewhere, ABT wheels measuring 20×9 at the front and 20×9.5 at the rear are featured and painted in matte black.
Other changes offered include a stainless steel exhaust system, lowering suspension springs, ABT stabiliser bars and wheel spaces. Inside, the tuner offers custom floor mats as well as additional alcantara elements and LED door entrance lights.
[showhide]
"ABT Sportsline 2015 – Press release CW19
ABT makes the new Audi TT Roadster even more agile and seductive
When the new Audi TT Roadster removes its top, it will get breezy! After all, even in the four-cylinder 2.0 TFSI, 230 hp (169 kW) make for high wind speeds indeed. Now,
ABT Sportsline upgrades the car – as with the coupé – to a mighty 310 hp (228 kW), no less than the production-type TTS, which, incidentally, ABT Sportsline beats by 440 to 370 Nm. "And to make you even more certain of its quality, I issue a comprehensive guarantee to go with this ABT Power New Generation uprating. This guarantee is now valid in many European countries," says CEO Hans-Jürgen Abt.
With its successful set-up, the TT also shows that the most fun is found when taking bends. ABT suspension springs and stabilisers make for much balance and agility. ABT wheel spacers of 24 or 30mm also make it very assertive. And the various ABT alloy wheels all come into their own here, e.g. the new FR in mighty 20''. The CR, DR and ER-C and the very exclusive ER-F (forged) are also available, some in 18 and 19'', too, and in various colours.
And for the third generation of the TT, the globally largest tuner of cars produced by the Volkswagen Group provides a body kit that makes this sports car look good from any angle, too. ABT Sportsline makes its edgy face appear even more dynamic with a front skirt add on featuring a spoiler lip. Specially designed mirror caps with the ABT logo complete the front. Whoever sees the ABT TT in their rear-view mirror, will soon see its newly designed rear. Through the fixed rear wing and the skirt insert with an offset centre, the car is definitely made more racy, an impression also underscored by the ABT exhaust system with black-chrome-plated tailpipes and lasered ABT logos. Drivers and passengers can thus enjoy a real open-air concert whenever the pedal hits the metal.
The new ABT TT Roadster – data and facts
ABT ENGINE TECHNOLOGY
Engine: 2.0 TFSI, 1.984 cc capacity, R4
Performance tuning: ABT POWER "New Generation"
Performance: 310 HP/228 kW (standard: 230 HP/169 kW)
440 Nm (standard: 370 Nm)
ABT AERODYNAMICS
ABT front skirt add on
ABT mirror covers with silver ABT emblems
ABT rear wing
ABT rear skirt insert
ABT emblem set "Black Chrome"
ABT WHEELS in FR-Design matte-black in 9.0 x 20 inch and 9.5 x 20 inch
Available also as complete set of wheels with sports tyres in 255/30 R20
ABT EXHAUST TECHNOLOGY
ABT stainless steel muffler system with 4 black chromed end pipes and lasered ABT Logos
ABT SUSPENSION
ABT suspension springs (front -35mm, rear -30mm)
ABT stabilisers
ABT wheel spacers for both axles (24 and 30 mm)
ABT INTERIOR
ABT floor mats
ABT Alcantara and ABT emblems at the side of the dashboard
ABT Alcantara at the steering wheel, seats, console and other interior parts
ABT LED door entrance lights with ABT logo"
[/showhide]