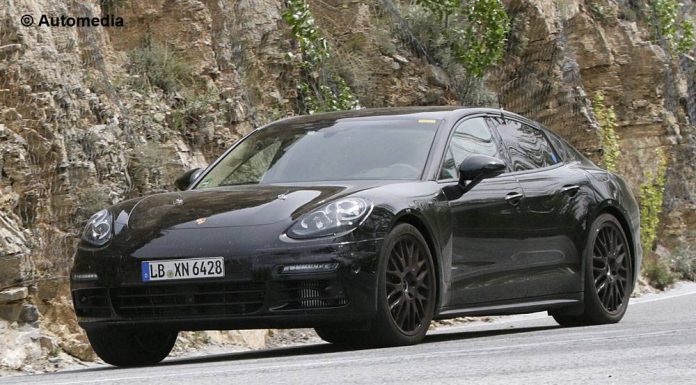 Just a couple days after the next-generation Porsche Panamera S E-Hybrid was spied in the midst of testing, new spy shots of the car have emerged. Testing in the presence of a more conventional petrol powered 2017 Panamera prototype, the S E-Hybrid test mule is easy to distinguish as it features an additional 'fuel' filler cap which is hiding the car's charging port.
Tipped to be revealed some time after the 'standard' 2016 Porsche Panamera is made official, the updated S E-Hybrid will be the second hybrid Panamera and will inevitably aim to be better than its predecessor.
Design wise, the second-generation Porsche Panamera will feature completely revised front and rear fascias while also adopting new headlights and taillights. Additionally, the next-generation Porsche Panamera will feature a sleeker design with a "faster" roofline according to the project's chief designer Michael Mauer.
Beyond the design, one of Porsche's key focuses with the new Panamera is weight saving. As a result, the second-gen Panamera will use a brand new MSB architecture from the Volkswagen Group. Additionally, the new Panamera will make use of aluminium to the same degree as the 991-generation Porsche 911 with the German marque confirming weight is its enemy.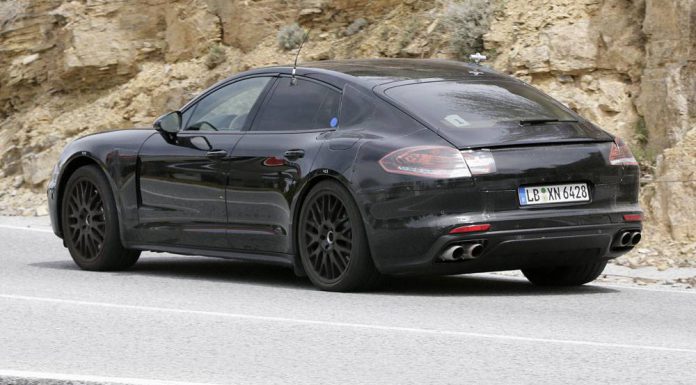 When it is all said and done, the 2017 Porsche Panamera should weigh between 1800-1900 kg depending on its configuration. This weight reduction is particularly noteworthy as the new Panamera will come adorned with even more technologies than the existing car and be required to pass ever-stricter crash regulations.
As a reminder, the current Porsche Panamera S Hybrid features a 3.0-litre V6 engine and electric motor making for a combined 416 hp and 435 lb-ft of torque.