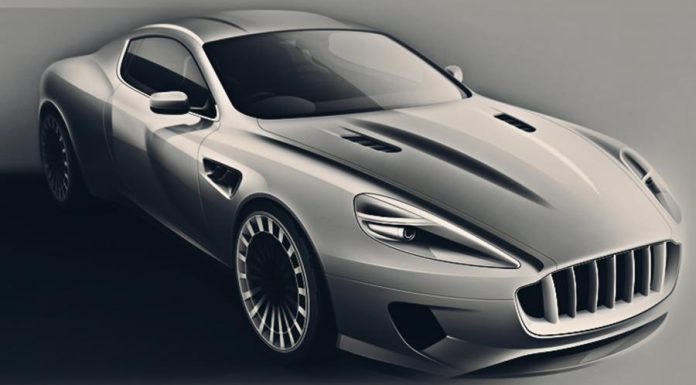 A number official design sketches of the brand new Kahn Design Vengeance have been revealed. The images confirm that the car is indeed based around the Aston Martin DB9, as speculated. Kahn Design claims that it will begin producing the Vengeance in limited numbers later this year with the firm focusing heavily on radically modifying the exterior appearance of the luxurious British Gran Tourer.
With that in mind, the Kahn Design Vengeance features an entirely new front grille incorporating prominent vertical slats. Elsewhere at the front, modifications have been made to the headlights while a new bonnet has been installed complete with a prominent power bulge and subtle air extractors. Wrapping up the front fascia changes is a new bumper and splitter package.
Generally speaking, the same basic shape of the Aston Martin DB9 is featured meaning the car's prominent rear haunches have been maintained. While the changes adopted at the front and sides are comprehensive, it is the rear-end where things get even more interesting. Gone are the British automaker's traditional taillights in favour of two simple circular units. Additionally, a prominent bootlid lip spoiler is featured as is a carbon fibre rear diffuser and dual tailpipes.
Although unconfirmed, it is reported that the Kahn Design Vengeance will feature the same 5.9-litre naturally aspirated V12 engine as the DB9. As a result, it should also pump out 510 hp resulting in a sprint from 0-100 km/h in the mid-4 second range.
Discussing the car, company founder Afzal Kahn said "Launching the Vengeance is the realisation of a dream I've had since childhood, to design and produce my own car. I've worked in the industry my whole career, and I want to leave a legacy which I can be proud of. The design has gone through several iterations over the years and I've taken my time in selecting the right partners to prototype and manufacture the car, ensuring it represents the pinnacle of quality and perfection."