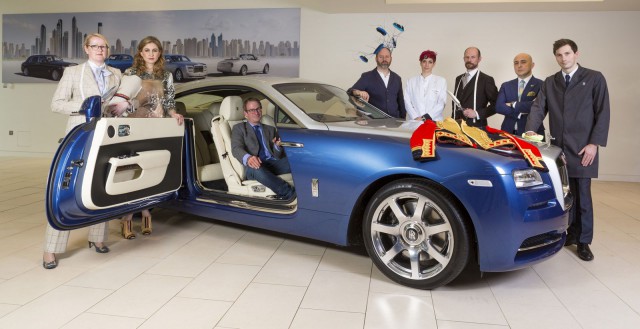 Rolls-Royce Motor Cars London is set to display just a snippet of the craftsmanship that goes into each Rolls-Royce model produced at the upcoming London Craft Week.
In its inaugural year, the London Craft Week starts today and runs through to the 10th of May. It has been formed to celebrate the best of British design and craftsmanship with Rolls-Royce to host a display tomorrow (May 7).
As part of the display, the British luxury automaker will showcase how its famous Starlight Headliner is created with 1340 individual fibre optic lamps which are hand-woven into the roof lining. The Starlight Headliner is completely customisable and attendees at the London Craft Week will be provided a glimpse of the limitless scope of personalisation offered for the headliner.
Alongside this, Rolls-Royce will bring along a selection of its finest workers to demonstrate their skills working with wood and leather.
[showhide]
For one day only, Rolls-Royce Motor Cars London will be showcasing some of the extraordinary design and craftsmanship that goes into creating the 'Best Cars in the World', as part of the inaugural London Craft Week.
London Craft Week (6-10 May; www.londoncraftweek.com) is a new annual event which promises to be a celebration of the very best in British design and craftsmanship. Members of the public are invited to visit the Rolls-Royce London showroom in Berkeley Square between 10.00 and 17.00 on Thursday 7 May to witness some of Rolls-Royce's experienced team of craftspeople demonstrate their skills with wood and leather.
Visitors to the showroom will also discover the secrets behind Rolls-Royce's Starlight Headliner, which features 1,340 fibre-optic lamps hand-woven into the roof lining to give an elegant representation of a glittering, starry night sky. The Starlight Headliner is available through the Rolls-Royce Bespoke programme, which affords customers remarkable scope to commission highly personal pieces of automotive art, crafted to their exacting specifications.
London Craft Week aims to introduce the talent, people and techniques behind beautifully made things to a wider audience. On offer is the opportunity to experience craft not just as completed objects, but to understand the full context in which they were made, why they are special and to meet the creators. This is achieved through a journey-of-discovery programme, featuring some of London's hidden workshops and unknown makers alongside celebrated masters and famous brands such as Rolls-Royce Motor Cars.
Rolls-Royce Motor Cars has always followed the ethos of founder Sir Henry Royce to "take the best that exists and make it better and when it does not exist, design it". The Rolls-Royce craftspeople proudly follow this philosophy, working with the very best natural materials and constantly pushing the boundaries of their craft to create beautiful and distinctive cars.
For further information on London Craft Week, please visit http://www.londoncraftweek.com/
For further information on the Rolls-Royce Motor Cars London, please visit http://www.rolls-roycemotorcars-london.co.uk/
[/showhide]