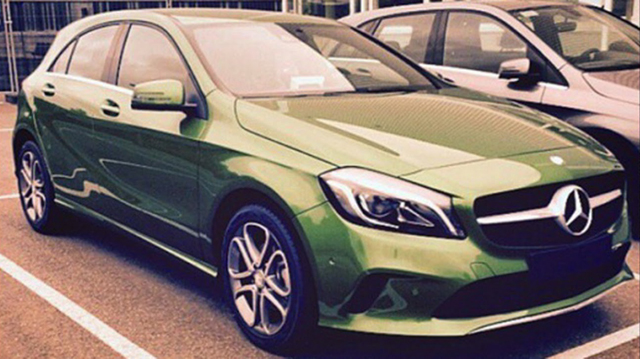 An image has just leaked online purportedly showing the facelifted 2016 Mercedes-Benz A-Class completely uncovered.
While the legitimacy of the image remains questionable, it undeniably shows an A-Class outfitted with a number of visual modifications compared to the outgoing A-Class. Most notably, it includes new headlights incorporating subtle design changes. Additionally, a brand new front bumper has been installed with a silver front splitter element baring similarities to the W205-generation Mercedes-Benz C-Class. Elsewhere, some minor tweaks are expected for the side skirts while the rear bumper will also be modified.
Alongside the plethora of exterior changes, the facelifted Mercedes-Benz A-Class will adopt some modifications throughout the interior with an updated COMAND infotainment system one of the most likely things to be changed.
Elsewhere, the German firm recently confirmed that the facelifted Mercedes-Benz A45 AMG will receive a power boost from the current 355 hp to over the 362 hp delivered by the Audi RS3 Sportback. Preliminary reports suggest it could deliver 375 hp.