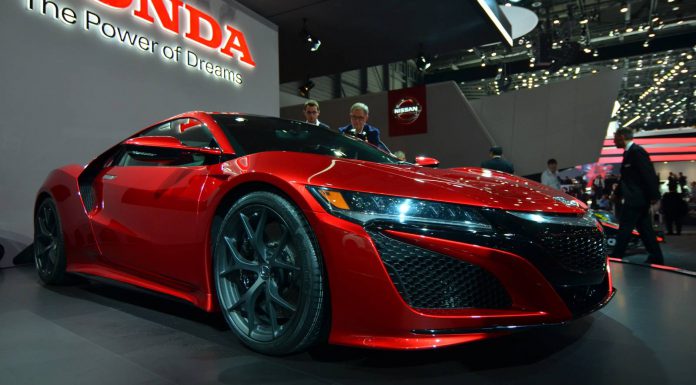 Just after the second-generation Honda NSX was revealed in Detroit, confirmation was given that a Type R variant was on the cards. Now additional details about the new Honda NSX Type R have emerged with the hardcore version tipped to reach the market by 2018.
Australian publication Motoring believes that the Honda NSX Type R will receive a healthy bump in power and torque over the 'standard' NSX which it itself has yet to be revealed in full. For now we know it is a 3.5-litre V6 mated to three electric motors and combined, is speculated to deliver in excess of 550 hp. By comparison, the NSX Type R could pump out more than 600 hp.
Elsewhere, it is suggested that the NSX Type R will go on a rather substantial diet. The Japanese marque has yet to confirm the standard car's dry weight but it is believed to sit between 1600 and 1700 kg. As for the NSX Type R, it may weigh less than 1550 kg thanks to its utilisation of additional carbon fibre parts and panels.
As a result of the increase in power and reduction in weight, Motoring claims that the NSX Type R will rocket to 100 km/h from a standstill in just 3 seconds flat putting it right in line with the Lamborghini Huracan, Ferrari 488 GTB and McLaren 650S.
Alongside these changes, the Honda NSX Type R will receive a number of new aerodynamic parts to increase downforce.
[Via Motoring]