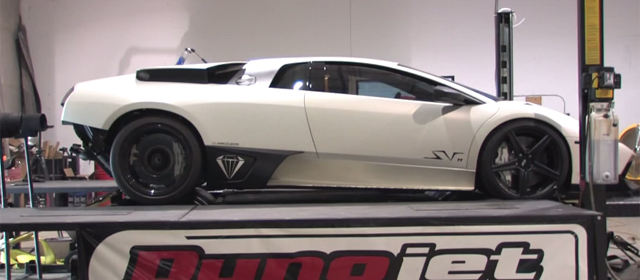 The development of Covert Tuning Dynamics' twin-turbocharged Lamborghini Murcielago SV has been ongoing for the better part of three years. Initially envisioned as the world's most powerful Lamborghini, Covert Tuning Dynamic's strapped the Italian supercar down to the dyno late last year and claims that it is now the world's most powerful Lamborghini when running on regular pump fuel.
[youtube]https://www.youtube.com/watch?v=D5QFjzZumJc[/youtube]
CTD hasn't revealed what octane fuel was used in the following dyno run but the car did manage to deliver 1234 hp and 816 lb-ft of torque through the rear wheels. By comparison, it delivered 598 hp and 439 lb-ft when the engine was left stock and the drivetrain was converted from all wheel drive to rear wheel drive.