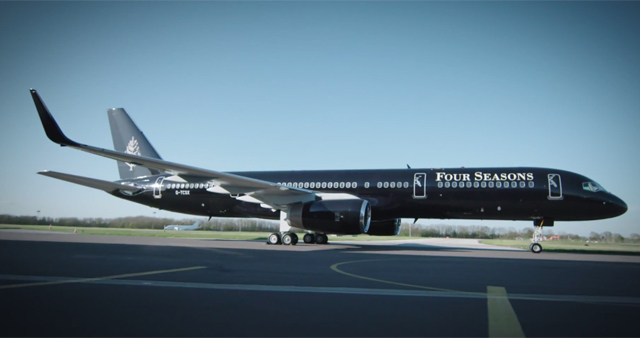 Four Seasons Hotels and Resorts may be known around the world mainly for their hotels but the company has just unveiled a new chapter in its history with the announcement of the Four Seasons Private Jet.
The one-off Four Seasons Private Jet has been created to provide the ultimate in luxury for Four Seasons' wealthiest guests. Available for private chartering, the Four Season private Jet comes complete with ten in-flight crew including a dedicated concierge as well as a global guest services manager. Each journey involving the private jet includes air travel and transportation on the ground as well as all meals and drinks.
The Four Seasons Private Jet is easy to distinguish from other similar aircraft thanks to its high gloss black finish as well as the implementation of the firm's recognisable tree logo. One of the most luxurious features in the cabin are the leather flatbed seats created by Italian designer lacobucci.
[youtube]https://www.youtube.com/watch?v=dyPIK-Xy6q8[/youtube]
Discussing the jet, vice president of design for Four Seasons Hotels and Resorts Dana Kalczak said "In our hotels, spaces are conceived as settings for great experiences. The same is true for the Four Seasons Private Jet. Along with the core objectives of comfort and functionality – and adherence to strict aircraft safety standards – we wanted to create an exceptionally luxurious ambiance, and Champagne and caviar became our inspiration."
According to the jet's dedicated chef, Kerry Sear "Our aim is to recreate the hotel experience on the Four Seasons Private Jet, which means creating innovative meals using fresh ingredients, served on the finest tableware and linens, all with impeccable Four Seasons service. The only real difference is that occasionally we have to do a little juggling when there's turbulence!"