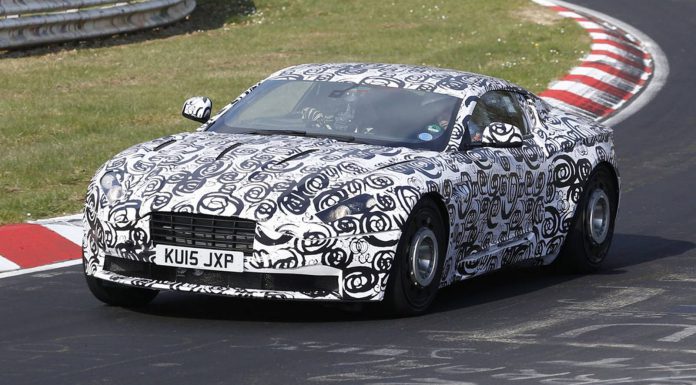 Meet the car with the new platform for the Aston Martin DB11, for since we spied the 2017 successor to the Aston Martin DB9 now the test mule has made way for the prototype. We don't have a name for it yet, we have something even better – the first spyshots of the car that will introduce the architecture.
It was 2001 when Aston Martin introduced the VH architecture its current models rely on. The British team has had all the time in the world, to coin a James Bond film song classic, for the Vertical-Horizontal development and now it is time to meet their new platform.
Talking of Bond, we've seen the Aston Martin DB10, the very limited edition special for the new 007 movie SPECTRE showing in November, but this is the real thing.
Since this is an Aston, we must talk aesthetics first. Aside from a few gaps up front, the prototype is still heavily camouflaged, but its silhouette can be distinguished. It looks like the styling evolution shown via the DB10 bespoke creation Aston Martin made for
Spectre is here to stay.
To be more specific, the car has morphed the elongated lines of the outgoing DB9 into a more compact-looking proposal such as the DB10. The move isn't without its risks though, since certain voices have criticized the DB10 for being too close to the Jaguar F-Type Coupe.
Returning to the clues mentioned above, that gaping front end shows what appear to be intercoolers, which makes perfect sense. That's how Aston Martin's new platform will be able to please both natural aspiration and forced feeding fans. The latter will be thrilled thanks to the presence of a Mercedes-AMG V8. This is the 4-litre unit that motivates the AMG GT – the same engine is also present on the Mercedes-AMG C63, but sans the dry sump of the sportscar.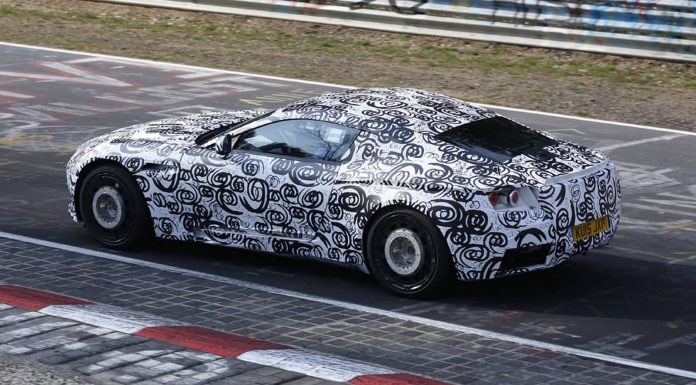 The Affalterbach heart is expected to stay close to its current 500 hp point, since the flagship engine will come in the form of the 6-litre V12 that Ford will continue to supply at least until 2018.
Forget the 510 HP AM11 V12 on the current DB9, this AM29 V12 we're talking about (that's the designation used for the Vanquish) delivers 568 HP.
These spy photos also allow us to get a small peek inside the car, where the dashboard seems to be adorned with a digital instrument cluster. We'll take this version, which does follow current trends, with a grain of salt, especially given Aston Martin's craftsmanship fetish.
The Aston Martin DB9's successor is expected to land next year as a 2017 model. As for the designation, the carmaker has recently trademarked the DB11 name, while, as we said, DB10 has already been used. Does this mean the new model will be called DB11?