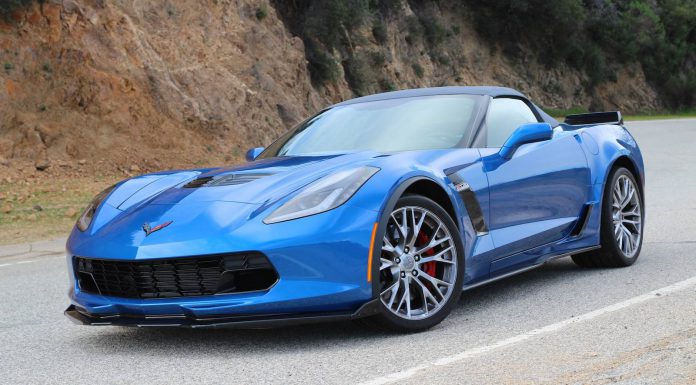 Prior to the National Corvette Museum C7 Bash kicking off tomorrow, Callaway has confirmed that it will unveil its modified C7-generation Corvette Z06 at the event.
While Callaway also offers a supercharger upgrade for the standard Corvette Stingray model, the marque's Z06 upgrades are promising to be even more comprehensive. In place of the American supercar's standard supercharger, Callaway will install its 'GenThree' supercharger which is 32 per cent larger in displacement that the stock blower.
Additionally, the Callaway Corvette Z06 will include a triple-element intercooler system as well as an improved manifold design. Despite Callaway yet to reveal just how much extra power its engine upgrades have been able to achieve, it seems inevitable that horsepower will be lifted from the stock 650 hp with torque also expected to rise about 650 lb-ft.
Other modifications set to be incorporated into the Callaway Corvette Z06 will be a high flow air intake, carbon fibre engine cover, anodised aluminium door sill panels as well as embroidered floor mats and exterior and interior badging.
The package will set customers back $16,995.
[showhide]
2015 Callaway Corvette Z06 to Debut at National Corvette Museum
The 2015 Callaway Corvette Z06 will debut at the National Corvette Museum C7 Bash in Bowling Green, Kentucky, April 23 through April 25. Here's a sneak peek at the new package.
Based on Chevrolet's track-proven Z06, Callaway engineers' no-compromise approach takes this Corvette to an astounding power level. While advertised Callaway horsepower and torque are pending final validation, the Callaway package adds Callaway's new GenThree supercharger system with 32% more displacement than the stock Z06 supercharger, improved manifold design and unique triple-element intercooling system. Callaway engineers recognize that a key contributor to maximizing power is reduction of inlet air temperature. By exposing the supercharger's large plenum area to outside ambient airflow, the design takes advantage of the significant charge air temperature reduction provided by convective cooling. The completely redesigned intercooling system also helps maintain nearly ambient charge air temperature with exceptionally low air restriction. Plus, the supercharger housing geometry was configured to allow further optimization of the charge air path – all leading to increased power and torque without the compromises faced with underhood solutions.
CALLAWAY CORVETTE Z06 STANDARD EQUIPMENT INCLUDES:
• Callaway "GenThree" Supercharger (pat. pend.)
• with Triple-Element Intercooler System
• Callaway Supercharger Surround Hood Trim Ring
• Callaway Carbon Engine Covers
• Callaway High Flow Air Intake System
• Callaway Embroidered Floor Mats
• Callaway Anodized Aluminum Door Sill Panels
• Callaway Exterior and Interior Badging
• Callaway Underhood Build Plaque with Vehicle Identification Number
• Callaway Key Fobs
• Callaway Authenticity Documentation Package
• Callaway 3 Year, 36,000 Mile Limited Warranty
Armed with flawless drivability and bulletproof durability, Callaway's 3 Year/36,000 Mile Limited Warranty overlaps the factory GM warranties, and ensures that Callaway Corvettes are not "blocked" for service by GM dealerships nationwide.
Optional equipment includes a 5 Year/100,000 Mile Powertrain Service Contract, ShortThrow Shifter, Callaway Sport Exhaust with Double-D Tips, Embroidered Car Cover, and National Corvette Museum Delivery.
All Callaway Corvettes are prepared to Callaway engineering specifications by expert craftsmen in Callaway's Connecticut and California factories. Callaway Corvettes, Camaros, Silverados, Tahoes, Suburbans, and their GMC counterparts are sold and serviced by Chevrolet and GMC dealerships across North America that are members of Callaway's Authorized Dealer Network. Callaway staff also works with prospective buyers who are not located near Callaway Authorized Dealers to facilitate delivery, maintenance, and warranty service.
The Callaway Corvette Z06 Package price: $16,995.
Callaway Cars Incorporated is an automotive engineering and manufacturing corporation specializing in high performance applications. Founded in 1976, the corporation's four core business units include Callaway Cars, Callaway Carbon, Callaway Engineering and Callaway Competition with facilities in California, Connecticut and Germany. The organization produces specialty vehicles, engineering services, and performance products that showcase technological sophistication, artistry in design, and beauty in craftsmanship.
[/showhide]