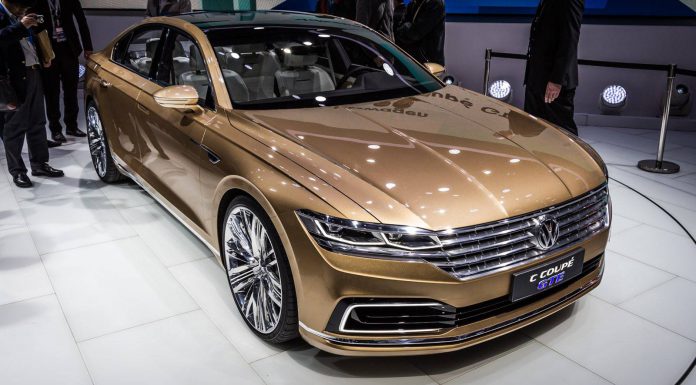 The wraps have been taken off the Volkswagen C Coupe GTE Concept at the Shanghai Motor Show 2015. The German automaker has created the car to preview a future production model filling the void between the Passat and Phaeton models. Intrigued by this, we checked it out live!
Powering the Volkswagen C Coupe GTE Concept is a plug-in hybrid powertrain. This powertrain combines a turbocharged four-cylinder TFSI petrol engine mated to an electric motor. The petrol engine alone produces 210 hp while the electric motor adds 124 hp with cumulative torque then sitting at 369 lb-ft. Combined fuel consumption sits at 2.3 litres per 100 km or 102 mpg equalling 55 g/km of CO2 emissions. For added efficiency, the C Coupe GTE Concept can travel for 49 km (31 miles) purely on electric power at speeds of up to 130 km/h (81 mph). The powertrain is then mated to an eight-speed automatic transmission.
Four driving modes are also offered for the C Coupe GTE Concept. Typically the concept starts up in Hybrid mode which utilises both the petrol engine and electric motor while also utilising regenerative braking. If the battery is adequately charged, whenever the driver releases the accelerator pedal all drive sources will be shut off and decoupled from the drivetrain allowing the concept to coast. E-Mode is also offered with it solely using the electric motor and lithium-ion battery pack. The GTE mode then serves as the sport mode. Finally there is the Battery Charge/Battery Hold mode which maintains the battery's charge to enable zero-emissions driving at the press of a button.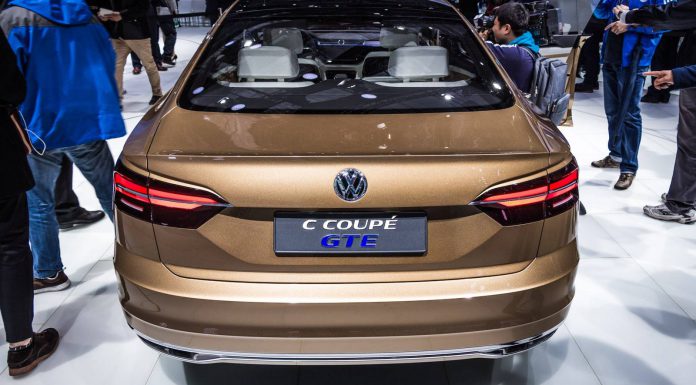 For more about the Volkswagen C Coupe GTE Concept, see our previous post. For more from the Shanghai Motor Show 2015, see our dedicated news channel.