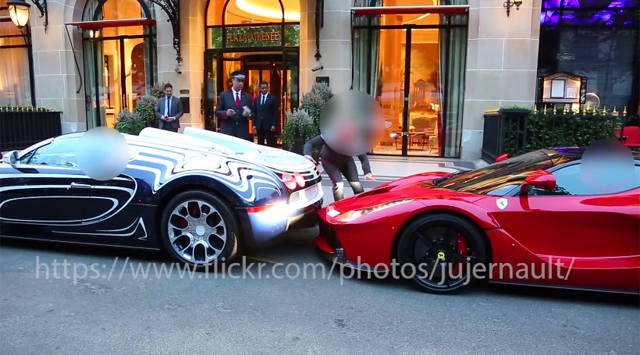 Two of the world's most expensive production cars, a red Ferrari LaFerrari as well as the unique Bugatti Veyron L'Or Blanc recently suffered a minor fender bender in Paris, France!
[youtube]https://www.youtube.com/watch?v=IEUWKalDIsY[/youtube]
As the following video shows, the passenger of the LaFerrari outside the hotel was guiding the car when the Bugatti Veyron driver in front inadvertently reversed straight into the Italian hybrid hypercar. From the clip, it seems apparent that the exhaust of the bespoke Veyron L'Or Blanc made contact with the very tip of the LaFerrari's front bumper.
Rather amazingly, the Veyron driver leaves the scene immediately after the contact is made. Additionally, the LaFerrari driver doesn't get out to inspect the damage either suggesting that either no apparent damage was done to either car or that the two drivers knew each other and were going to sort the situation out away from the cameras.
Whatever the case may be, this certainly isn't something you see everyday!