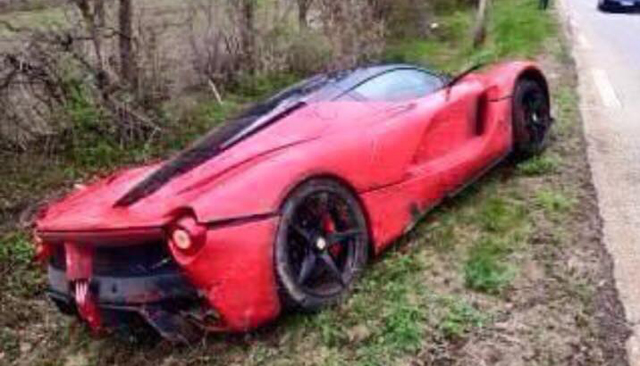 While details are exceptionally scarce, an image has emerged of a British registered Ferrari LaFerrari which recently crashed in France.
The image shows the high-priced Italian hybrid hypercar on a patch of grass alongside a road. Despite the low quality of the image, we can see from the picture that damage has been done to the rear bumper and diffuser with part of the decklid also appearing to have suffered from the crash. Additionally, one of the wing mirrors has been ripped off the hypercar's long gloss black mirror stalks.
Without any additional details, it is impossible to say just how the crash occurred but it is inevitable that the necessary repairs won't come cheap considering the aluminium and carbon fibre used extensively in the LaFerrari.
As a reminder, LaFerrari gets a 6.3-litre V12 which is connected to an electric motor similar to the system on the McLaren P1. The Ferrari F150 V12 has an output of 789 hp at 9000 rpm and 700 Nm at 7000 rpm while its electric motor has a maximum output of 161 hp and 270 Nm of torque. That delivers a total combined power output of 950 hp, allowing the new Ferrari Enzo to do 0-100 km/h in less than 3 seconds, 0-300 km/h in 15 seconds and a top speed in excess of 350 km/h.
[Via Auto Evolution]