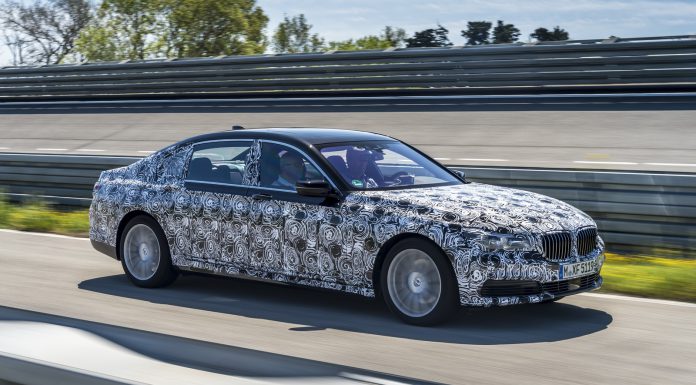 Prior to the official launch of the next-generation BMW 7-Series later in the year, the German marque has unveiled a selection of crucial details about the new car alongside a selection of images of a lightly disguised prototype.
For starters, the new BMW 7-Series features carbon fibre throughout its construction particularly in the new passenger cell. Consequently, the luxury sedan tips the scales at up to 130 kg less than the outgoing car depending on specification. Thanks to less weight as well as other chassis modifications, BMW says the new 7-Series features better driving dynamics and improved ride quality over the current model.
Some of those chassis tweaks include the fitment of two-axle air suspension complete with a self-levelling system as standard. Additionally, Dynamic Damper Control is featured while an improved version of the German automaker's Integral Active Steering system also makes its debut on the new 7-Series. Elsewhere, an electromechanically driven Dynamic Drive roll stabilisation system has been installed.
Engine wise, the latest generation BMW 7-Series will be offered with a selection of new engines with confirmation about an inline-six cylinder already being given. All of the engines available will be mated to a smooth shifting eight-speed Steptronic transmission.
Moreover, the new BMW 7-Series incorporates a touch display for its iDrive monitor which is a first for the firm. Alongside the inclusion of touch technology, the iDrive monitor also includes gesture control. A fully digital instrument panel is also featured despite a recent image showing a half analog and half digital gauge cluster.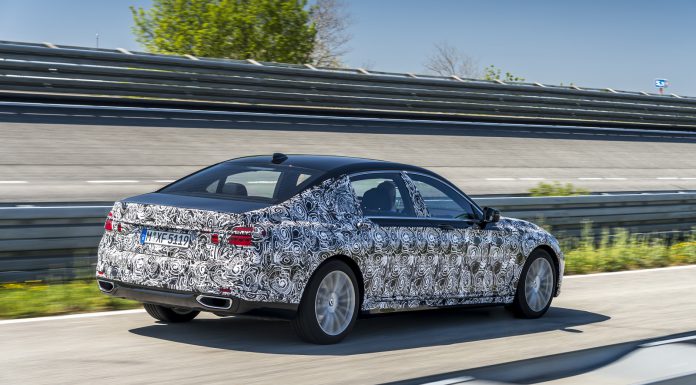 [showhide]
BMW is using a technology and innovation workshop to present an initial selection of development highlights which the next generation of the BMW 7 Series model range will use to set new benchmarks in lightweight design, driving dynamics, comfort, intelligent connectivity and operation. The extensive use of carbon-fibre-reinforced plastic (CFRP) in the structure of the passenger cell, the rigorous and detailed application of lightweight design and a new generation of engines combine to reduce the weight of the luxury sedan along with its fuel consumption and emissions figures. The comfort, safety and driving experience offered by the new BMW 7 Series benefit from new chassis technology, exceptional scope for interaction with the car's infotainment technology and a wider selection of driver assistance systems from BMW ConnectedDrive.
BMW EfficientLightweight: Carbon Core helps to reduce weight by up to 130 kilograms.
Thanks to the BMW EfficientLightweight strategy, the new BMW 7 Series line-up will tip the scales up to 130 kilograms lighter than the outgoing generation of models. At its heart is a body structure with a Carbon Core based on the transfer of technology from the development of the BMW i models. The use of CFRP – whose material properties lend themselves to use in the passenger cell areas exposed to heavy loads – increases torsional rigidity and strength. The configuration of the sheet metal elements can be adjusted accordingly, allowing body weight to be significantly reduced.
Six-cylinder in-line engine from the new generation of power units.
The new BMW 7 Series model range will be powered by engines including a six-cylinder in-line variant from the BMW Group's latest generation of power units. The new petrol engine with BMW TwinPower Turbo technology links up with a likewise further developed eight-speed Steptronic gearbox.
Dynamics and ride comfort made to measure – and to the highest standard.
Sophisticated, precision-honed chassis technology and additional chassis control systems – fitted as standard or available as an option – enhance both the driving dynamics of the next-generation BMW 7 Series and its ride quality. At the same time, the balance between these two facets of driving pleasure reaches a level without parallel in the luxury sedan segment. The inclusion of two-axle air suspension with automatic self-levelling as part of the standard specification leads to noticeably improved ride comfort. Dynamic Damper Control also features as standard. Its electronically controlled dampers improve the primary and secondary ride of the sedan and sharpen its dynamic attributes. The latest update of the Integral Active Steering system, along with the first electromechanically driven Dynamic Drive roll stabilisation system, contribute to a further boost in comfort, dynamic prowess and assurance on the road in the new BMW 7 Series.
The latest innovations offer drivers greater freedom when choosing the right vehicle set-up for the situation at hand: they can elect to enjoy even sportier handling or further optimised ride comfort as desired. In addition, they can use the newly designed Driving Experience Control switch to activate the ADAPTIVE mode. In this setting, the vehicle set-up adapts as required to the driving style and the character of the road.
Intuitive operating with Touch Display and BMW gesture control.
In the next generation of the BMW 7 Series, the iDrive operating system's monitor comes in Touch Display form for the first time. This means customers will also be able to operate the system in the same way as modern electronic devices. In addition to using the Controller to operate the system in familiar style, its functions can also be selected and activated by touching the screen's surface.
Another new addition to the iDrive system's functionality is BMW gesture control, which is being introduced for the first time. Hand movements detected by a 3D sensor control infotainment functions in an extremely intuitive and user-friendly fashion. The gestures can be used for a number of functions, including controlling the volume in audio applications and accepting or rejecting incoming telephone calls. There is also the option of pairing a specific gesture with an individual choice of function.
Unique in the luxury sedan segment: remote control parking.
The new BMW 7 Series is the world's first series-produced car that owners will be able to manoeuvre in or out of parking spaces or garages without anyone at the wheel. The remote control parking option thus allows drivers to access extremely tight parking spaces. Using the likewise newly developed BMW Display Key, the driver can prompt the car to enter or exit a parking space fully automatically.
Innovative driver assistance systems from BMW ConnectedDrive enhance comfort and safety.
New strings to the bows of the Driving Assistant Plus and Driving Assistant systems include the steering and directional control assistant, Lane Departure Warning Assistant with active side collision protection, and the rear collision prevention and cross-traffic warning functions. When using the Active Cruise Control system with Stop & Go function, a press of a button now suffices to acknowledge speed restrictions detected by the Speed Limit Info function.
[/showhide]