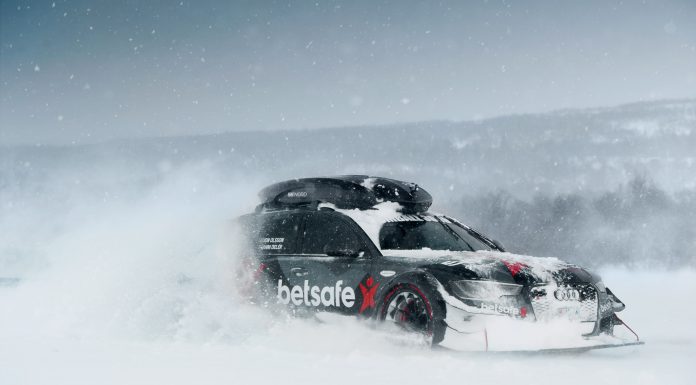 Recently unveiled prior to the 2015 edition of the Gumball 3000, Jon Olsson's completely bespoke 900hp+ Audi RS6 DTM is unquestionably the most outlandish RS6 ever created. Featuring not only a plethora of advanced aerodynamic pieces, the car has been heavily mechanically modified and recently hit the snow in Sweden for the very first time.
[youtube]https://www.youtube.com/watch?v=NTwBsVQsCJA[/youtube]
Discussing the car and its maiden voyage into the snow, Olsson recently said "I did not build this car to roll around to car shows, this car was built to get me anywhere I need to go, no matter what weather it is! I have to admit that the snow was a little deeper than I thought, but at least now I know that I have the world's fastest snowplow!"
As the name suggests, the RS6 DTM has been inspired by DTM race cars. With that in mind, Olsson's Audi RS6 DTM features a completely bespoke bodykit incorporating massively flared wheel arches. Additionally, it includes a prominent carbon fibre front splitter as well as dual carbon fibre canards on both sides of the front bumper. Elsewhere on this truly insane RS6 you'll find bold carbon side skirts as well as a lightweight ski box also made from carbon fibre.
Elsewhere, the Audi RS6 DTM includes the STM Stage 3+ tuning package which sees power increased from 560 hp to over 900 hp from the twin-turbocharged 4.0-litre V8. TTE 18 carat gold anodized turbochargers are also found while a screaming Milltek race exhaust has been installed. Further upgrades include Intrax race suspension and a Movit big brake kit.