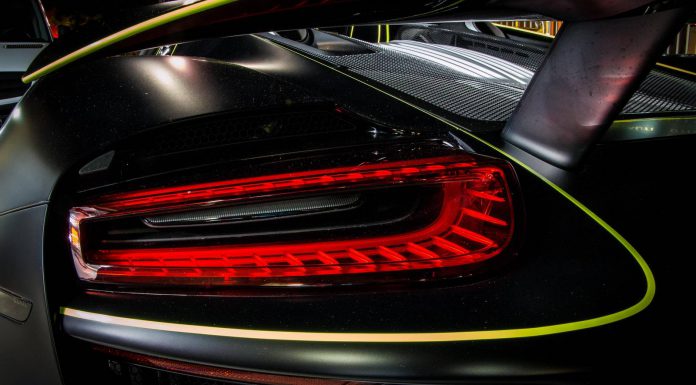 Off the line, there are few production cars on the planet that can keep up with the Porsche 911 Turbo S. While it may 'only' produce 560 hp from its twin-turbocharged six-cylinder engine, its use of all-wheel drive, a quick shifting eight-speed automatic transmission and launch control make it truly ferocious in a straight line.
[youtube]https://www.youtube.com/watch?v=RekzQnPdVNw[/youtube]
Just how does the 911 Turbo S compete in a straight line against the German marque's fastest ever road car, the Porsche 918 Spyder however? Well GTspirit Owner's Club member Alejandro Salomon recently answered that question when he pitted his stealth black 918 against a white 911 Turbo S. As the following video shows, the results were rather comprehensive!
When Salomon's Porsche 918 Spyder left the factory, it was painted gloss black and already exceptionally eye-catching. It was then wrapped with a special clear bra from Sticker City which resulted in the stealth black finish. Additionally, this eye-catching 918 Spyder has been outfitted with green piping across many of the lines and panel gaps of the German hybrid hypercar.
As a quick reminder, the Porsche 918 Spyder uses a mid-mounted 4.6-litre V8 engine producing 608 hp independently – the highest specific power of any naturally aspirated Porsche engine. The V8 is then supplemented by a further two electric motors mounted on each axle resulting in a combined 887 hp.