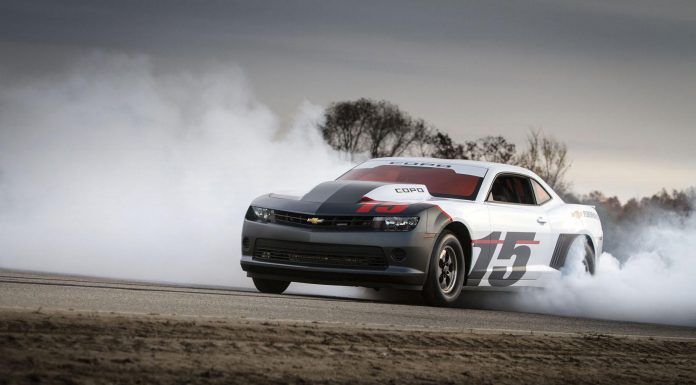 At the Barrett-Jackson Palm Beach auctions on April 18th, the very first 2015 model year Chevrolet COPO Camaro will be sold.
As the very first COPO Camaro, the car will be adorned with an Abalone White exterior complete with a selection of matte grey and orange accents. Additionally, serial number 2015COPO001 will feature large '15' graphics.
Powering the COPO Camaro in question is a supercharged 5.7-litre V8 engine pumping out 555 hp coupled with a three-speed automatic transmission created specifically to make the car as quick down the quarter mile as possible. Other engines available for the COPO Camaro include a naturally aspirated 396 cubic inch V8, an N/A 427 cubic inch V8 with superchargers that are either 4.0-litre or 2.9-litre in capacity also offered for two further 327 V8 engines.
Beyond the racing-spec engines available for the latest and final fifth-gen COPO Camaro, the car utilises an NHRA-approved roll cage, brand new suspension components, a solid rear axle and of course and drag racing tyres. Customers can also opt for different injector harnesses and have the car finished in any particular colour/theme they choose.