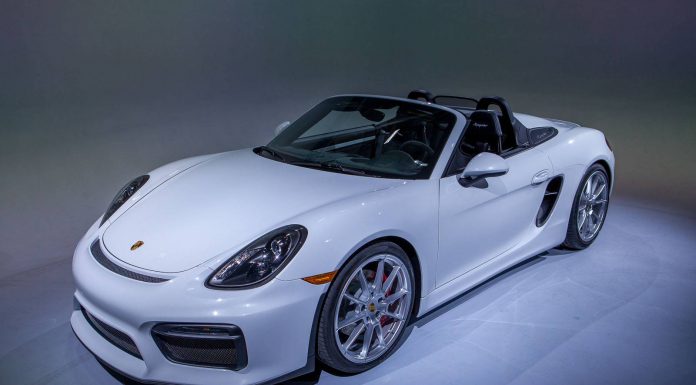 At the recent New York Auto Show 2015, the covers were taken off the brand new Porsche Boxster Spyder. Drawing on the Porsche Cayman GT4 in its design, the Boxster Spyder is unquestionably the fastest and most driver focused Boxster ever offered. According to new reports however, an even more potent Boxster could be on the cards.
While the new Porsche Boxster Spyder utilises the same 911 Carrera S sourced 3.8-litre six-cylinder engine as the Cayman GT4, it doesn't feature all of the advanced suspension systems of the Cayman GT4. As a matter of fact, the Cayman GT4 borrows its front suspension components straight from the Porsche 911 GT3 while utilising unique suspension at the rear but the Boxster Spyder doesn't utilise these elements.
While recently speaking with Autocar about a potential Porsche Boxster Spyder GT4, a source from Porsche said "We are looking at it right now. Much of the engineering has already been done for the Cayman, so we think this might be a good direction for us."
If a Boxster Spyder GT4 is indeed launched, there's a good chance that it would also adopt the beefed up brakes of the Cayman GT4 as well as the hardtop's aforementioned suspension parts.
[Via Autocar]