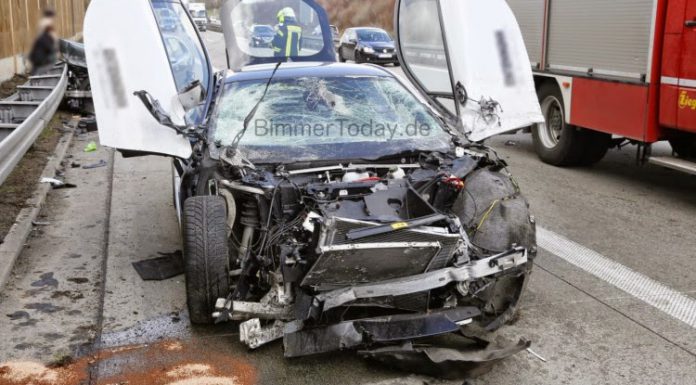 A white BMW i8 has been destroyed in a high speed crash in the German Autobahn.
According to reports, the driver of the German hybrid sports car rear-ended an Audi A3 after a third vehicle pulled into the right lane in an attempt to overtake. The resulting impact sent both the Audi A3 and BMW i8 into the guardrail resulting in extensive damage to both cars.
As for the i8, its front-end has been utterly destroyed with the bumper, quarter panels and bonnet all ripped off leaving nothing but a wrecked crash structure, damaged brake and suspension components as well as ruined radiators. As a result, it seems inevitable that it will be deemed a write-off.
It is believed that the occupants of both cars escaped without serious injuries.
As a reminder, the BMW i8 is the second model from BMW's new BMW i-Series. It is intended as a sports car and provides a forward-looking, revolutionary interpretation of BMW's hallmark driving experience. It is a 2+2-seater with a design that BMW refer to as LifeDrive architecture. It gets a "life module" passenger cell made from carbon-fibre-reinforced plastic (CFRP), as you would expect from any premium sports car. Total weight is just 1,490 kg, bearing in mind the plug-in hybrid architecture.
[Via BMW Blog]