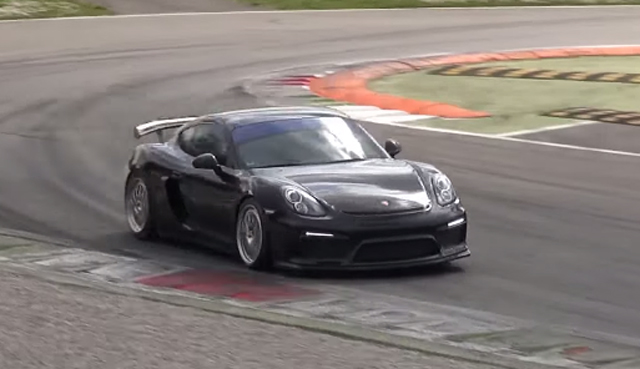 A prototype of what is believed to be a racing-spec variation of the Porsche Cayman GT4 has been filmed testing at Italy's Monza circuit. Prior to this video being released, it wasn't actually known that the German marque was preparing a race car based around its most potent road-going Cayman variant.
[youtube]https://www.youtube.com/watch?v=4VP7Ffiqpk8[/youtube]
Compared to the road-spec Porsche Cayman GT4, the following racing prototype has been fitted with a set of lightweight racing wheels wrapped in racing slick tyres. Additionally, subtle tweaks seem to have been made to the rear wing and bumper with the sports car's ride height also appearing lower. Elsewhere, an unrestricted exhaust system seems to have been installed.
While no official word has been given about just what Porsche is developing, a race car to slot below the Porsche 911 seems the most likely. If that is the case, then the car featured could be a prototype of a Porsche Cayman designed to compete in the GT4 championship alongside the likes of the Aston Martin Vantage GT4, BMW Z4 and the recently unveiled KTM X-Bow GT4.
As for the road-going Porsche Cayman GT4, it uses the same 3.8-litre flat-six engine as the Porsche 911 Carrera S delivering 385 hp. As a result, 0-100 km/h (60 mph) is possible in 4.4-seconds and a 295 km/h (183 mph) top speed is now also achievable. As with all Porsche products, the Cayman GT4 is also at home on the Nurburgring having recorded a blistering 7 minutes and 40 second time.