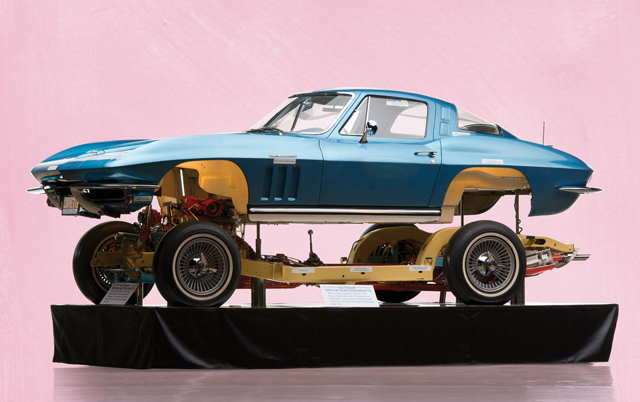 A unique cutaway of a 1965 Chevrolet Corvette Stingray is set to go under the hammer at the RM Sotheby's auction on May 2nd.
The car was originally created for the 1965 Motorama show and is actually a development mule of the iconic American sports car with just 4 miles on the clock. The design provides an unadulterated look at the mechanical components of the Chevrolet Corvette Stingray as well as its body which in this case is painted in Le Mans Blue.
The exterior of the car actually sits nearly two feet above the chassis thanks to a handful of elevating rams. To provide onlookers at the 1965 Motorama show with an even better look at the inner-workings of the Corvette, it features transparent valve covers with cut-out panels on the engine showing how the fuel-injection system works as well as the exhaust, intake manifolds and the engine block itself.
After the show, the car went missing for about 30 years when it was discovered in South Africa in the mid-1990s. It was then sent back to the United States and was purchased by the Andrews' family in 2007 who still own it.
It will be sold without a reserve and pre-auction estimates suggest it will sell for between $1 million and $1.4 million.