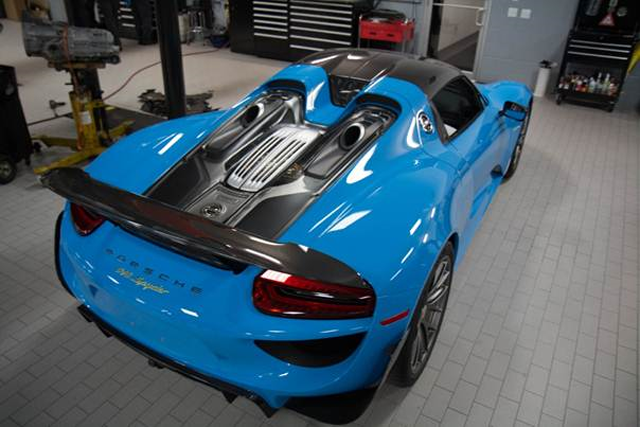 A stunning Porsche 918 Spyder Weissach finished in Riviera Blue has just been delivered in the United States. Although it remains to be seen, there's a possibility that this is the only 918 Spyder finished in Porsche's most iconic shade of blue.
Specifically, the Riviera Blue stretches across the entire body of the German hybrid hypercar with the exception of some carbon fibre elements included with the Weissach aerodynamics package. They include a carbon front splitter, carbon wing mirrors, carbon roof and pillars, a carbon rear wing as well as a carbon rear diffuser and rear bumper fins.
Beyond the Riviera Blue paint and carbon fibre elements, this Porsche 918 Spyder Weissach rides on a set of gunmetal grey centre locking wheels and features bright green brake calipers.
As a reminder, the headline for the Weissach Package is improved performance. From zero to 100 km/h takes just 2.6 seconds, 0.2 seconds faster than the standard model. It takes just 7.2 seconds to travel from zero to 200 km/h in 7.2 seconds (a 0.5 second reduction), and 19.9 seconds to pass the 300 km/h mark (a 2.1 second reduction).
Under the hood, it features the same powertrain as the standard 918 Spyder. That is a mid-mounted 4.6-litre V8 engine producing 608 hp independently – the highest specific power of any naturally aspirated Porsche engine. The V8 is then supplemented by a further two electric motors mounted on each axle resulting in a total of 887 hp.
[Via duPont Registry]