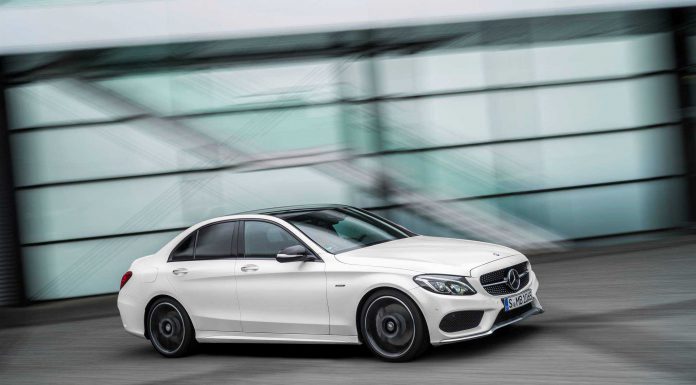 German pricing for the brand new 2015 Mercedes-Benz C450 AMG 4Matic has just been released.
For the Mercedes-Benz C450 AMG sedan, it will set customers back 59,976 euros as standard while the C450 AMG Estate costs slightly more at 61,642 euros. To put those prices into perspective, the next most potent C-Class model offered, the new Mercedes-AMG C63, starts at 75,000 euros in Germany.
Powering the Mercedes-Benz C450 AMG 4Matic is a 3.0-litre twin-turbocharged V6 engine. It delivers the same 362 hp at 5500 rpm and 382 lb-ft of torque between 2000 and 4200 rpm as the GLE450 AMG Coupe. As the name suggests, this power is sent through all four wheels via the company's 4Matic all-wheel drive system via a 7G-Tronic seven-speed gearbox. This transmission has been slightly tweaked for use in the C450 AMG 4Matic compared to the AMG C63.
When it is all said and done, the C450 AMG 4Matic accelerates to 100 km/h in 4.9 seconds in sedan guise as well as 5.0 seconds flat with the estate body style. Top speed sits at an electronically limited 250 km/h. Alongside the performance figures, the Mercedes-Benz C450 AMG 4Matic can achieve 37.2 mpg on the combined fuel economy cycle while emitting 178 g/km of CO2 emissions.
Visually, the Mercedes-Benz C450 AMG 4Matic features a plethora of tweaks over other C-Class variants. For example, it features enlarged air intakes, extended side skirts, a small bootlid lip spoiler while a subtle rear diffuser and quad tailpipes can also be found.