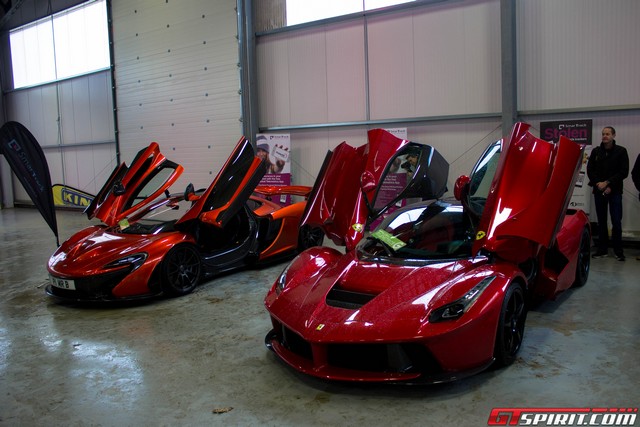 Supercar Driver held their annual 'Secret Supercar Meet' at Bruntingthorpe Proving Grounds last weekend. Despite the less than ideal wet and windy British weather, over 200 member cars turned up at Hanger 42 from 7:30am to 10:30am, coming from all over the UK.
Once all had arrived at Hanger 42, the cars were split into groups, with each manufacturer having a separate area in the car park, with the best cars being guided into the hanger itself for some sheltered parking.
Inside the garage there was some truly special metal with Paul Bailey setting his trio of hypercars up along one side of the hanger. As we moved around we were greeted by a pair of BAC Monos several McLaren 650Ss, a 12C and an SLR Convertable alongside the MSO 12C and MSO SLR. On the other side of the hanger were cars from the event's sponsors, Infiniti and Akrapovič, with another impressive collection sitting in the middle of the hanger. Here we had a Pagani Zonda, three Koenigseggs from Superventura, a fantastic looking Giallo Ferrari F40, Bugatti Veyron Super Sport WRE and a Jaguar XJ220 to name but a few.
After all the cars had arrived in the car park or hanger, and their drivers had grabbed themselves a bacon sandwich and coffee, the cars were lead onto the main runway for the iconic Supercar Driver group photo.
We thank Supercar Driver for the invite and look forward to seeing more from them later in the year!