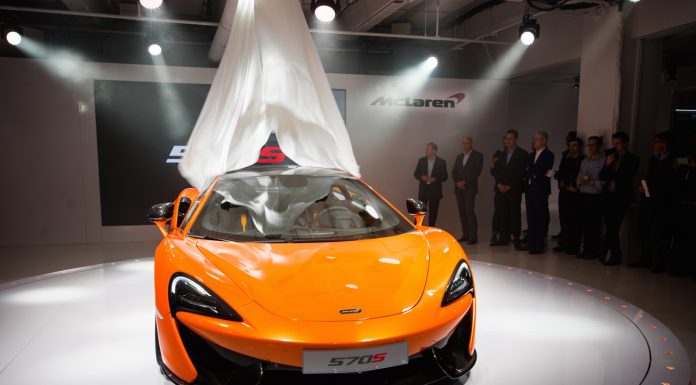 We are reporting from the New York Auto Show 2015 where one of the stars of the show, the McLaren 570S, has been unveiled for the very first time.
The McLaren 570S Coupe is the first car of the McLaren Sports Series models and its looks fantastic with its striking design cues. This is not a car that is just about the aesthetics, the McLaren 570S Coupe packs some serious punch. The performance figures may not match those of the Super or Ultimate Series cars, but are still very impressive in their own right. The headline numbers are as follows, a power output of 564 bhp with light weight construction to give a class leading power-to-weight ratio of 428 bhp per tonne. These figures culminate to fire the the 570S from zero to 100km/h (62 mph) in 3.2-seconds, while 200 km/h (124 mph) is reached in a very impressive 9.5-seconds with the pace not letting up till the car reaches a top speed of 328 km/h (204mph).
This supercar speed comes courtesy of the power plant we have become so familiar with, the 3.8-litre twin turbo unit producing. This unit has been branded the M838TE – E standing for 'Evolution' – with 30 percent of components bespoke to the Sports Series. Linked to the engine is a seven-speed SSG transmission that promises to be quick and smooth. Stopping power should be just as impressive courtesy of standard-fit carbon ceramic brakes, fitted behind a newly designed range of forged alloy wheel options shod, as standard, with Pirelli P Zero Corsa tyres.
Weight was a crucial factor in the creation of the McLaren 570S, carbon fibre has been used extensively, the unique carbon fibre MonoCell II chassis is incredibly strong and stiff yet weighs less than 80kg, and has been designed to offer optimum levels of protection without inhibiting ingress and egress from the cabin making it easier to enter and exit the car. This in conjunction with the use of aluminium body panels, contributes to a dry weight of as low as 1,313kg (2,895lbs), almost 150kg lighter than
its closest competitor.
[
The interior of the McLaren 570S reflects its designers desire to make to Sports Series more usable than any McLaren before it. It is all typical McLaren, simplistic and driver focused but upholstered with more leather than alcantara for a more comfortable feel over long distances.
The McLaren 570S will certainly have to prove itself against some tough competition including the Audi R8, Porsche 911 Turbo, Ferrari 488 GTB and more, only time will tell if the McLaren will be the class leader. We cannot wait to find out!