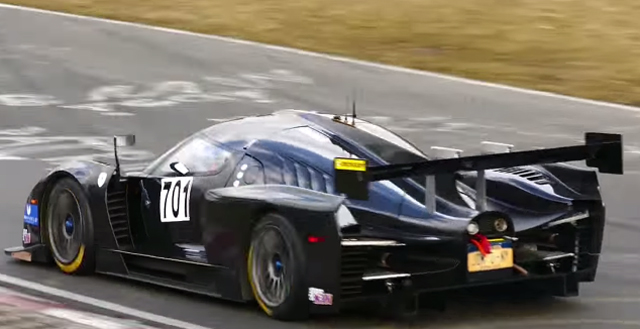 Following its introduction at the Geneva Motor Show 2015, two Scuderia Glickenhaus SCG003C models recently competed in the VLN racing series at the Nurburgring. It was the same race which saw one spectator killed after a Nissan GT-R Nismo GT3 racer flipped and crashed.
[youtube]https://www.youtube.com/watch?v=b5ZT2KFYY2U[/youtube]
The video above perfectly showcases the two potent SCG003Cs hitting the legendary German racetrack and one of them was actually lifting off the ground at the front end over a particular crest on 'Green Hell' during practice. To resolve this, the team tweaked the SCG003C's aerodynamics for the race. Interestingly, the cars were black flagged during the race as they exceeded the noise regulations put in place for the race.
Detailed specifications about the racing-variant's 3.5-litre twin-turbocharged V6 engine haven't been released but it is a Honda-sourced engine but has been extensively tweaked by Autotechnica Motori. It reportedly delivers over 600 hp and is mated to a Hewland paddle shift transmission driving the rear wheels.