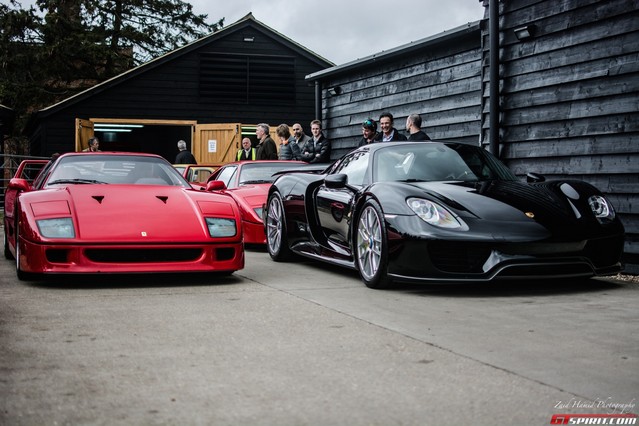 DK Engineering is a quaint and quite independent classic and supercar dealership situated in Chorleywood, a short distance from the hustle and bustle of central London. Once a year, DK pushes it barn doors open to select list of collectors and enthusiasts where they cram their cobblestoned courtyards with millions upon millions of pounds of the rarest and most sought after cars in the world.
On Saturday 28th March under the typically thick and grey London sky, the old farm yards were alive with the sound of engines. Old and new, classic and modern, all the cars had one thing in common – the meticulous and clinical attention to detail that DK Engineering apply to every car that passes through their establishment. From Ferrari F40s to Porsche Carrera GTs, every car looked superb, as if they had never turned a wheel in their lifetimes.
It was not only the cars for sale and receiving treatment that were present, DKs guests certainly showed up in style. From a spattering of brutal 599 GTOs to a Porsche 918 Spyder equipped with the vicious Weissach package and even a helicopter, the turn out was nothing short of jaw-dropping. Having re-attached our jaws we pottered around the charming farm barns to see what we could find, we were certainly not disappointed. The first workshop we entered was guarded by two Ferrari F40s parked idle next to one another, we walked in only to be greeted by yet another F40. One would be forgiven at this point for assuming that every man and his dog drove an F40.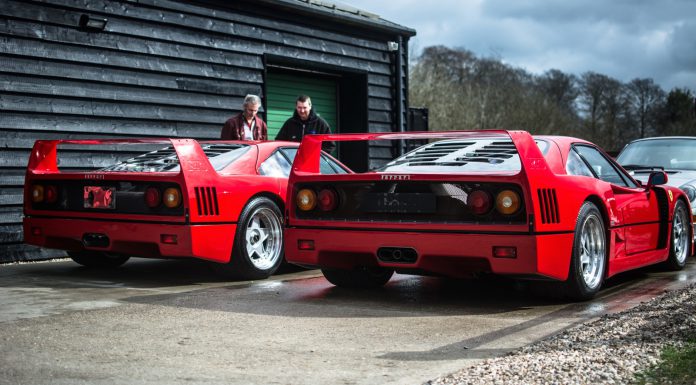 We pan from right to left, a number of classic Rosso Ferraris lay dormant, the sea of red rudely broken up by a striking Giallo 599 GTO and a silver Mercedes-Benz 300SL. Swivel a little further left and all we had previously laid upon had been forgotten. A subtle silver McLaren F1 steals the show, flanked by two classic racing Ferraris.
We left the barn astonished assuming that we would find no sight that could possibly top what we had just seen. Once again, we were mistaken. As the viewing angle grows from behind the barn wall more and more legendary supercars creep into sight. Yet another Ferrari 599 GTO looks fantastic in Rosso sitting beside a delectable Porsche Carrera GT.
A BMW i8 still somehow managed to look great in such company. We continued looking down the line, a striped Ferrari 458 Speciale, 997 GT3 RS, another F40 and McLaren 12C catch our eye line. Then we see what may have just been the best looking machine present on the day; a Lamborghini Miura finished in the most stunning shade of blue we have ever seen.
At this point we are struggling to comprehend what we have seen, it was a sensory overload, and we still had more to see!
The final courtyard featured no less then another three Ferrari F40s. Two of these three cars were very special indeed. Up first an F40 GT 'Ferrari Club of Italia' Team Car, one of only around seven ever built, beside this an even more marvellous machine, another F40 GT wearing a more aggressive aero kit. Both of these beautiful machines flawless in concours condition and both officially road legal! Lurking further back in the same courtyard was another awesome looking 599 GTO, finished in Nero and an attention grabbing yellow GTO stripe. Walk further in and a splendid white Porsche GT3 RS 4.0 comes into sight, a rare and pleasant surprise. Inside
the final barn we find another GTO, this time a muscular 288 a car ever increasing in value.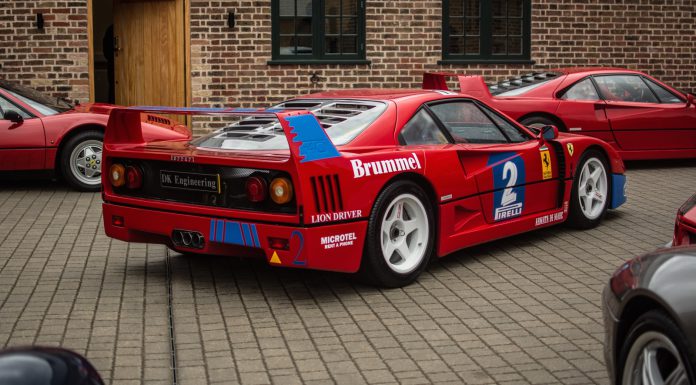 GTspirit are privileged enough to visit a number of automotive events in the UK but are yet to visit one with such charm and charisma as the DK Engineering Open Day, it really must be experienced to be appreciated. We hope to visit DK Engineering for many years to come and thank Harvey and the team for hosting us.