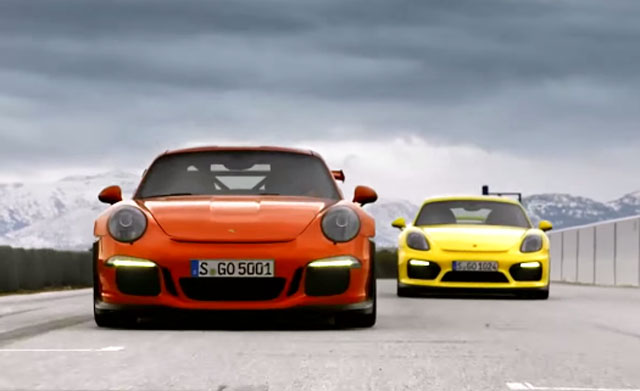 On the back of respective promo videos for the Porsche Cayman GT4 and new Porsche 911 GT3 RS being released, the German automaker has released the following clip showing the two battling it out through some mountain passes and on the racetrack. The relatively short clip showcases the performance capabilities of the two models perfectly and asks the question 'Which one would you prefer?'
[youtube]https://www.youtube.com/watch?v=p1nhrNR5sjM[/youtube]
On paper, here is how they stack up. The Porsche Cayman GT4 features the 911 Carrera S's 3.8-litre flat-six engine delivering 385 hp. As a result, it will sprint to 100 km/h in 4.4 seconds as well as a 295 km/h (183 mph) top speed and has reportedly recorded a 7 minute and 40 second lap around the Nurburgring.
By comparison, the 2016 Porsche 911 GT3 RS uses a brand new 4.0-litre six-cylinder engine which remains naturally aspirated. It has been tuned to deliver 493 hp (the same as the 997 GT3 RS 4.0) but now delivers 384 lb-ft of torque which is 15 lb-ft more than the GT3 RS 4.0. Additionally, these figures represent a 25 hp and 60 lb-ft increase over the current 911 GT3.
Unlike the Cayman GT4 however, the 911 GT3 RS isn't available with a manual transmission.