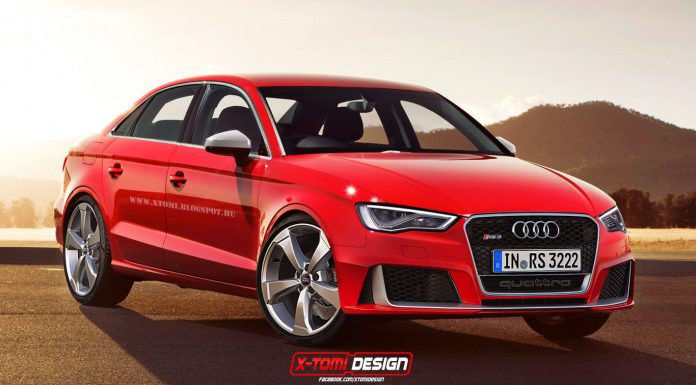 New reports have emerged that Audi could launch the Audi RS3 sedan for the United States.
As it stands, the Audi RS3 is only available as a Sportback model but the German marque is reportedly interested in creating an RS3 sedan as sedans historically sell much better than Sportback or hatchbacks models in the U.S.
If an Audi RS3 Sedan is indeed launched and offered for sale in the U.S, it will inevitably feature the same engine as the Sportback. That is a 2.5-litre TFSI five-cylinder unit delivering a total of 367 hp as well as 343 lb-ft of torque. As a result, the RS3 Sportback accelerates to 100 km/h in a very brisk 4.3 seconds as well as a top speed of 280 km/h (174 mph) upon request from the customer.
As it stands, that engine is only available alongside a seven-speed S tronic dual-clutch transmission. However, an attendee from the recent Audi of American employee meeting hinted that a manual transmission could be offered although the German firm has yet to decide either way.
Fourtitude reports that while an Audi RS3 Sedan could be on the cards, it is unlikely to launch in the near future. As a matter of fact, it is tipped to arrive after the facelifted Audi A3 range debuts later this year and will consequently make use of the facelifted model's revised styling elements.
[Via Fortitude]