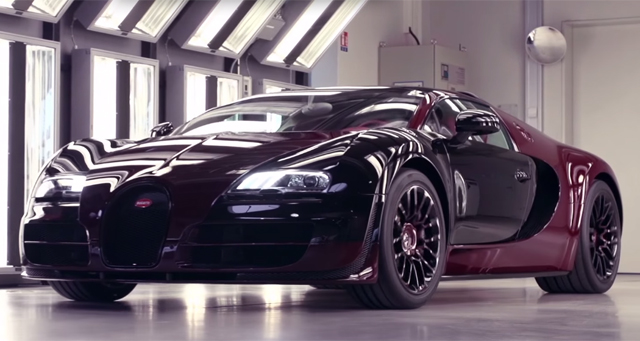 At the Geneva Motor Show 2015, the final ever Bugatti Veyron was introduced in the form of the Bugatti Veyron Grand Sport Vitesse La Finale. Now the French marque has released an awesome video showing the construction of the last Veyron to ever be produced.
[youtube]https://www.youtube.com/watch?v=uJw5f5mExTI[/youtube]
Filmed at the company's production facility in Molsheim, France, the 3 and a half minute clip provides us with an incredible insight into the craftsmanship which goes into the creation of every single Veyron produced in the last ten years. The workers at Bugatti clearly take grey pride in what they do and throughout the entire process, wear a set of white gloves so as to not tarnish the car in anyway before the customer takes delivery.
Although the Bugatti Veyron Grand Sport Vitesse La Finale is a final farewell to the Veyron family, it has been designed to reflect the beginning of the era and chassis 001. The body combines red carbon fibre, the first time it has featured on a Bugatti, with a number of black gloss elements in addition to the black wheels. The underside of the jaw-dropping rear wing/air brake reads La Finale. It is reported that the car has been purchased by a Middle Eastern customer who had a strong influence over the configuration of the car.
While the car's appearance may be unique, it is still the Bugatti Veyron Grand Sport Vitesse under its carbon skin. Consequently, it is powered by a quad-turbocharged 8.0-litre W16 engine delivering a total of 1200 hp and 1106 lb-ft of torque. As a result, it will be capable of hitting 100 km/ in a mere 2.5 seconds as well as a top speed of 408.84 km/h.