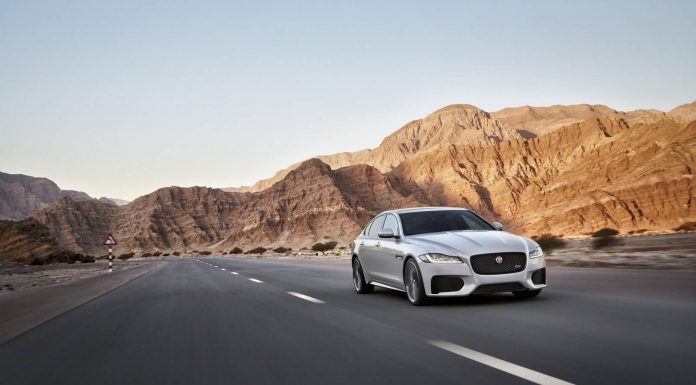 Jaguar have officially announced the brand new Jaguar XF ahead of the New York Auto Show 2015 which starts next week! The 2016 Jaguar XF is an all new design, constructed from Jaguar's aluminium architecture. It looks similar to the recently-released Jaguar XE, yet slots into that space traditionally occupied by the German trio.
To promote the car and give it its first airing, Jaguar enlisted the help of expert British stunt man Jim Dowdall. Dowdall drove the new Jaguar XF 240 metres across a high-wire to demonstrate its lightweight aluminium-intensive construction.
Limited details are available at the moment, although we expect to hear more before the show begins. We do know that the all-new XF gets an aluminium-intensive architecture which is said to make it 80 kg lighter than its nearest rivals. The chassis features a double-wishbone and integral link. The XF also offers full-LED headlights.
The design features short overhangs, overall it is 7mm shorter and 3mm lower than the car it replaces. The new XF's wheelbase measures 2,960 mm in length with more legroom, knee room and head room than ever before. It is 75 per cent aluminium, which helps save up to 190kg over the outgoing model with stiffness increased by up to 28 per cent.
The all-new Jaguar XF gets a range of engines, starting with the 2.0-litre Ingenium diesel engines available with 163PS and 380Nm's of torque or 180PS and 430Nm torque. Both are offered with six-speed manual and eight-speed automatic transmissions. The 3.0-litre V6 twin-turbo diesel is also available with 300PS and a staggering 700Nm of torque. The 3.0-litre V6 supercharged petrol engine is available too, rated at 380PS and 450Nm torque.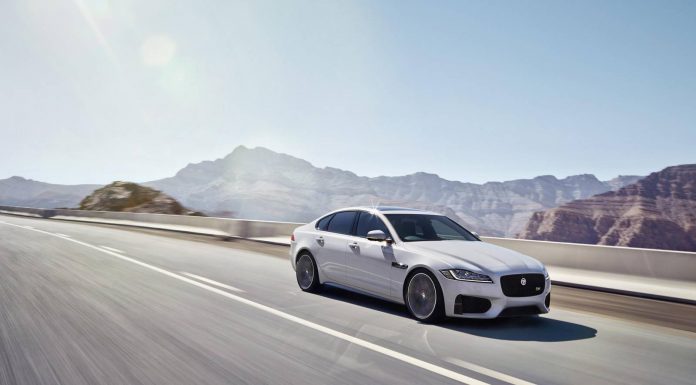 Steering is Electric Power Assisted Steering (EPAS) and advanced passive damper technology to improve economy and ride comfort. The Jaguar Configurable Dynamics system is also available to individually tailor the settings of the dampers, steering, engine and eight-speed automatic transmission. The new XF is also available with All-Surface Progress Control, Jaguar's new system for safer low-speed driving in adverse conditions. It automatically manages the brakes and the throttle to deliver the best possible traction.
The cabin ditches the pre-historic MMI system Jaguar used to use and replaces it with the new InControl Touch Pro premium infotainment system and a 12.3-inch TFT instrument cluster. It is coupled to a bespoke 825W Meridian digital surround sound system with 17 speakers. The XF also sees the return of Dual View technology which simultaneously allows the driver to see information such as navigation, while the front seat passenger watches TV or a DVD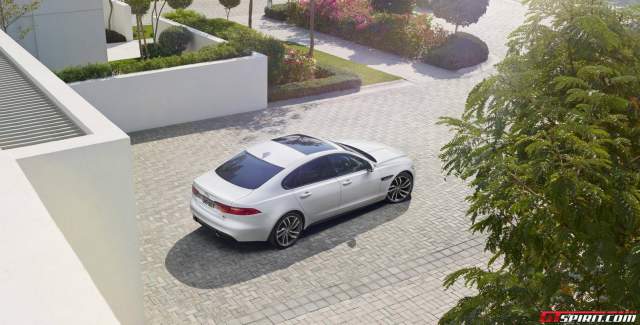 Ian Callum, Director of Design at Jaguar said:
"In creating the all-new XF, as a design team we have been driven by discipline, the discipline of simplicity. Every exterior line on the XF has a clear purpose – nothing is superfluous. Achieving that simplicity takes time and requires great determination; it's all too easy to add lines to a car, but much harder to add character by leaving lines out.

"Inside too, we have been driven by the desire to ensure the XF's cabin is as comforting as it is comfortable. New technology, including our new 10.2-inch touchscreen, is combined carefully with materials that cosset and reassure. The all-new XF has a clear sense of calm and strength, both outside and inside – and I'm proud of my team for delivering that."