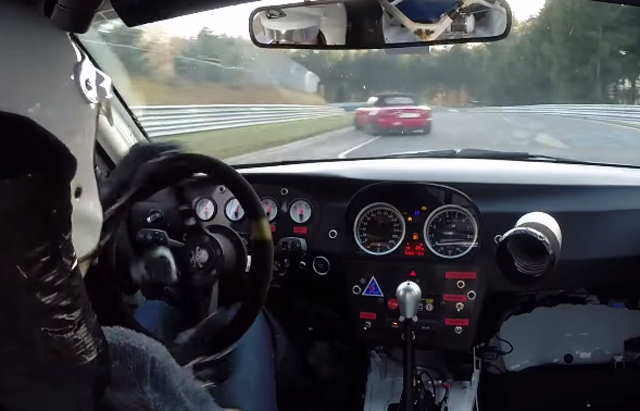 Dubbed by legendary racer Sir Jackie Stewart as 'Green Hell', it is little surprise why the Nurburgring Nordschleife is viewed as one of the most revered, dangerous and exhilarating race tracks in the world. As if you needed further proof of just how dangerous the 'Ring can be, here's a rather frightening clip of a stripped down BMW M3 almost crashing into a Mazda MX5 on the circuit!
[youtube]https://www.youtube.com/watch?v=Rl-0qIR4euk[/youtube]
As the following video shows, the M3 driver is met with a red MX5 which spun out as he exits a blind right hander and speeds over the crest. The M3 driver instantaneously turns to the wheel 90 degrees to the right resulting in some serious understeer and for a split-second, it looks like a collision is inevitable.
Thankfully however, the front tyres manage to catch up to the violent steering input and the BMW M3 is able to narrowly avoid hitting the MX5 at high speed.
Talk about a close call!