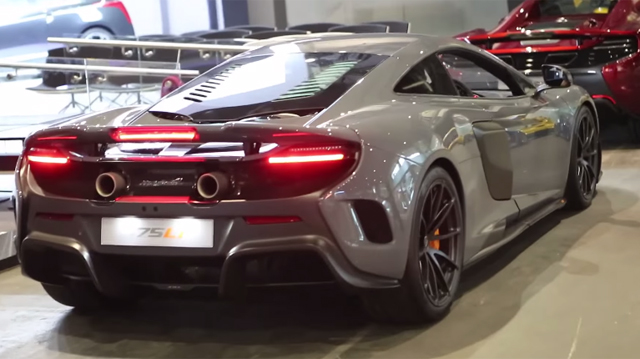 Following the conclusion of the Geneva Motor Show 2015, one lucky YouTuber was able to snap the brand new McLaren 675LT driving off the stand and revving for the first time. While the following video is only short, it does provide us with a glimpse of the car's more aggressive exhaust note in a way that the official promo just didn't do.
[youtube]https://www.youtube.com/watch?v=YTK7SgoXguE[/youtube]
As a reminder, the 675LT gets the British marque's familiar 3.8-litre twin-turbocharged V8 engine but it now delivers 675 hp rather than the 650 hp provided by the McLaren 650S. Alongside that additional power, the following video shows that it also sounds discernibly different to the 650S with more burbles and crackles!
Elsewhere, dry weight is down to 1,230kg. By comparison, the Ferrari 458 Speciale (the only proper yardstick by which the McLaren can be measured) weighs 1290 kg. The performance statistics are impressive. The 675LT gets a 0-100 km/h (62 mph) time of 2.9 seconds, a 0-200 km/h (124 mph) time of 7.9 seconds and a top speed of 330 km/h (205 mph).
The McLaren 675LT gets its name, not from the changes to the mechanics, but rather from the exterior style. On the outside, there is a new front bumper with a new front spoiler and carbon fibre end plates. The rear is also redesigned, although not quite so dramatically as the F1 Longtail was. It gets an active 'Longtail' Airbrake, a new rear bumper and a different diffuser.