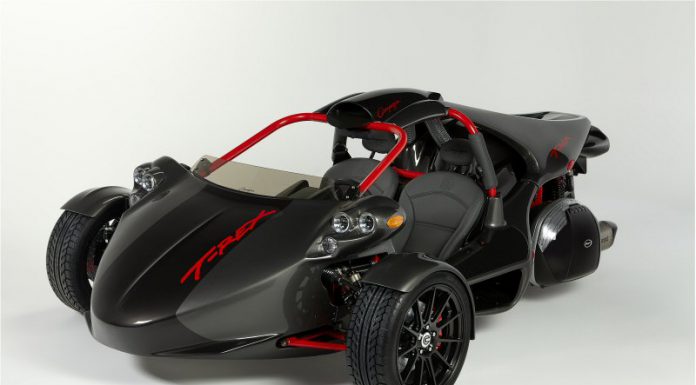 Believe it or not, but the unique Campagna T-Rex three-wheeled sports car has actually been on the market for 20 years and to celebrate that milestone, a special edition variant has been introduced. Unsurprisingly, it is dubbed the Campagna T-Rex 20th Anniversary Edition and will be limited to a mere 20 units worldwide.
Helping to make the Campagna T-Rex 20th Anniversary Edition stand out is its bright red chassis frame as well as the black alloy wheels and a selection of carbon fibre elements. Additionally, the T-Rex 20th Anniversary Edition includes a number of commemorative logos engraved in French across the custom leather seats, dashboard and on the engine itself.
Beneath the skin is a 1.6-litre inline six-cylinder engine sourced from BMW and delivering a total of 160 hp. It is joined with fully adjustable suspension and a potent braking system.
Discussing the commemorative car, president of Campagna Motors Andre Morissette said "After 20 years, the T-REX is still the three-wheel vehicle of reference, thanks to our innovative approach, unparalleled styling, and the exciting, unmatched level of performance they provide. This special edition T-REX is a prime example of what I mean."