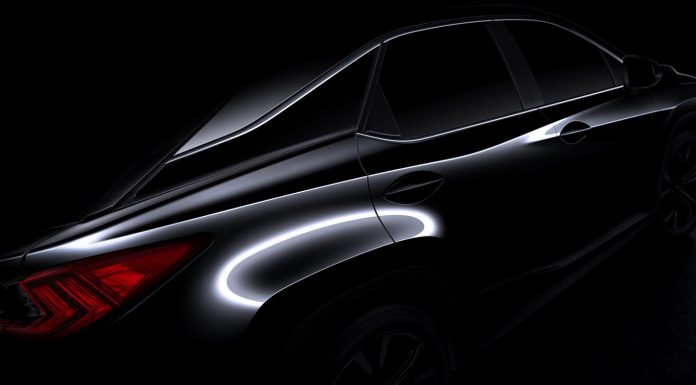 Prior to its launch at the New York Auto Show 2015, the latest-generation Lexus RX crossover has just been teased through the following image.
Unlike many teaser images which we're used to dealing with, this one is actually quite revealing as it showcases many of the new Lexus RX's design traits. For example, we can see taillights clearly inspired by the Lexus RC as well as sharp and aggressive lines baring similarities to those of the smaller NX from the Japanese marque. Additionally, a sharp roofline can be seen as well as boldly flared rear wheel arches.
A recently spied test mule showed that the next-gen Lexus RX will adopt a stretched wheelbase to accommodate a third row of seats following demand for such a model from Lexus dealerships across the United States. Elsewhere, the 2016 RX will feature the firm's spindle front grille alongside revised headlights.
Alongside the inclusion of a third set of seats, the revised RX will reportedly be larger than the outgoing car to distance itself from the compact NX crossover. Elsewhere, a new eight-speed transmission could debut in the updated RX to replace the outgoing six-speed auto 'box. From an engine standpoint, the next-gen Lexus RX will reportedly be available with a turbocharged petrol six-cylinder engine as well as a similar V6 hybrid to the Lexus 450h. Other engines remain unknown at this stage.