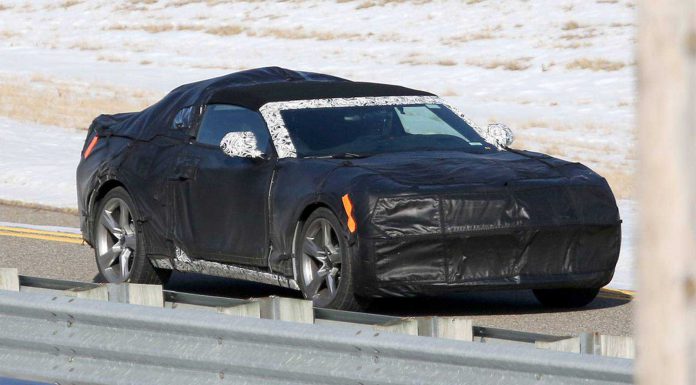 On the back of confirmation that the sixth-generation Chevrolet Camaro will debut on May 16th, a short teaser video has been released showcasing the exhaust note of what sounds like a range-topping V8-powered Camaro variant.
It remains to be seen just what Chevrolet Camaro version's engine note is featured in this clip, but it could either by the new Camaro SS or a new Camaro ZL1 or possibly the latest-generation Camaro Z/28. Either way, it sounds good and certainly has us excited for the new car to be released!
[youtube]https://www.youtube.com/watch?v=oPsj-8Xke3M[/youtube]
When recently discussing the upcoming launch of the latest Camaro generation, the car's marketing manager Todd Christensen said "This will be an event Camaro fans will not want to miss. This is only the sixth time we have introduced an all-new Camaro. We wanted to share the moment with the customers and fans who have helped make Camaro both America's favourite performance car for the past five years, and a cultural icon since 1967."
Beyond range-topping Camaro versions using a 6.2-litre V8 engine, there are suggestions that an updated variant of the existing 3.6-litre V6 will also be offered. Additionally, the 2.0-litre four-cylinder turbo engine used by the Cadillac CTS and ATS is likely to be made available. It will serve as Chevrolet's answer to the sixth-generation Mustang's 2.3-litre EcoBoost engine.
Alongside the possibility of borrowing the 2.0-litre engine from the Cadillac CTS and ATS, the new Camaro will likely utilise their Alpha architecture as well and ditch the current Zeta platform.
As for the design, previous reports have suggested that the styling of the next-gen Camaro will be updated but not to a revolutionary level. Instead, it will look like a "worked-over current-model Camaro". Of course, this comes as no real surprise considering that the latest Mustang's design isn't drastically different from previous-generations of the car.