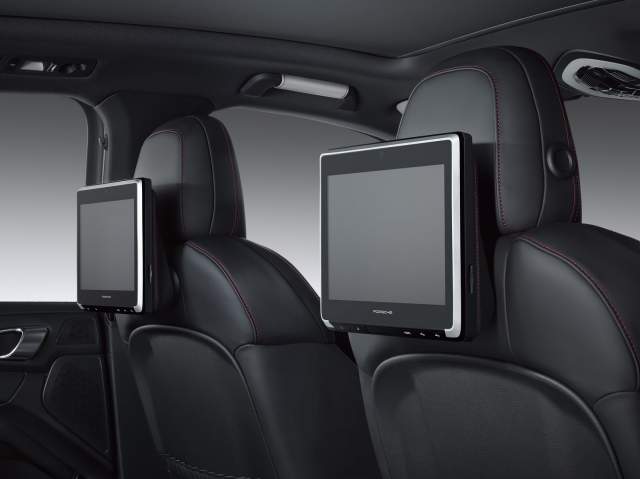 A new range of options have been announced by Porsche Exclusive for the Panamera, Macan and Cayenne models. The new options mainly focus on the interior but a selection of mechanical and exterior upgrades are now being offered by Porsche Exclusive.
Starting off inside, Porsche Exclusive has unveiled the new Porsche Rear Seat Entertainment system. It includes two large 10.1-inch colour touchscreen displays each with a resolution of 1280 x 800 pixels. The rear seat entertainment system can be ordered for the Panamera, Cayenne and Macan models. Beyond the screens, it also includes a DVD player, an SD card slot, two USB ports as well as a HDMI port. Additionally, each screen includes a small camera to allow for video calls.
Furthermore, the Porsche Rear Seat Entertainment System includes a WiFi Crosslink Streaming function which allows the same video to be displayed across both screens. Included in the package are a set of wireless headphones as well as the option of a wireless internet connection. In Germany, the standard package will cost 3082 euros while the Plus variant bumps that price up to 3439 euros.
Elsewhere, a new sports exhaust system has also been made available for the Porsche Macan S Diesel with it also incorporating a modified silencer. Additionally, it comes with chrome exhaust tips which can alternatively be painted in either black or silver.
Additionally, new Sport Classic five-spoke alloy wheels are available for the Porsche Cayenne alongside new wheel arch extensions. The wheels can be finished in GT silver metallic, Platinum and in gloss black.