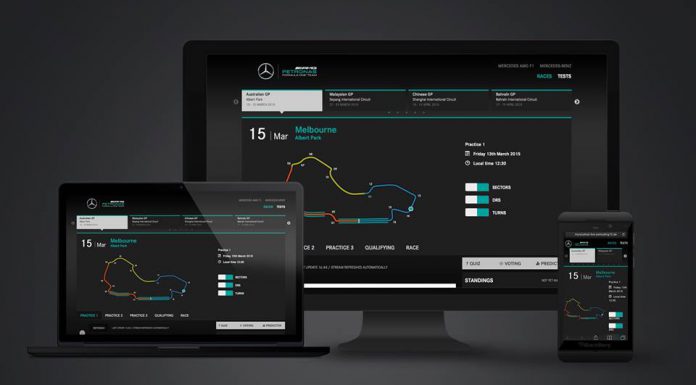 You can now follow Mercedes-AMG F1 live updates through their newly launched online portal called My Race Hub. The new hub will provide real-time updates throughout each session of every F1 round. It was launched just in time for the first F1 Grand Prix round of 2015 in Melbourne Australia. The portal will work alongside the official Mercedes-AMG F1 social media accounts.
There is a map at the top of the hub which provides key information such as the different sectors, turns and DRS application, it also indicates the turn numbers. Standings are placed on the right side of the hub where users will be able to read the times recorded by each driver, this information will also include drivers from other teams.
Users will also be provided with supporting information about the race such as future timings, quotes and any other relevant information. The hub also support media updates and will therefore provide users with live photos from the races. In addition to that, the hub allows users to share its updates to their own social media networks through a simple click.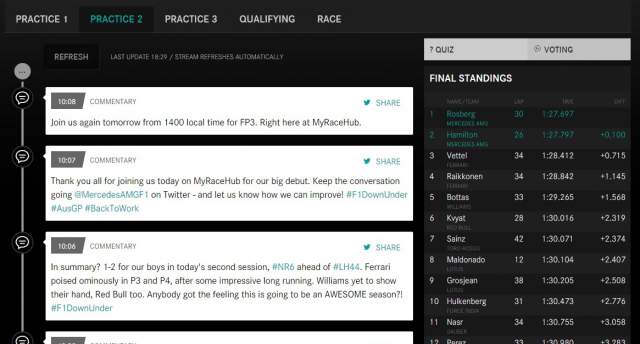 With that said, Mercedes-AMG has performed well in the first day of free practice where Nico Rosberg set the fastest time ahead of his teammate Lewis Hamilton. The season looks exciting already with Mercedes likely to dominate once again. Free Practice 3 continues today ahead of the qualifying sessions. The main race will take place on Sunday.