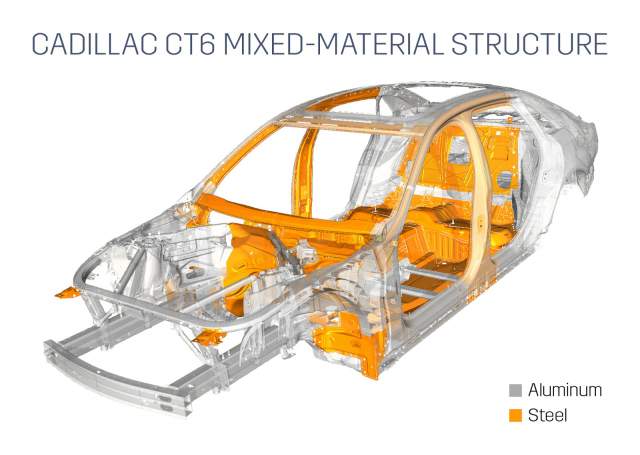 Prior to the Cadillac CT6 launching on March 31st ahead of the New York Auto Show 2015, General Motors has released an image and detailed the luxury sedan's advanced structure.
About two-thirds of the Cadillac CT6's structure is made from lightweight aluminium. As a result of this, it weighs about 200 pounds less than an equivalent structure made from steel. As the image above shows, steel is featured throughout much of the CT6's internal structure including the front and rear firewalls. Additionally, the A-pillars and B-pillars combine steel and aluminium.
Elsewhere, aluminium can be found at the front with the crash structure made almost entirely from aluminium. Additionally, much of the CT6's rear structure utilises aluminium. All told, Cadillac has revealed that the CT6 uses 13 different materials inside and outside.
Beyond the platform, we know that the Cadillac CT6 will be initially available with a 2.0-litre turbocharged four-cylinder engine. The firm's chief executive Johan de Nysschen also recently revealed that a high-performance twin-turbocharged V8 will also be offered down the line and also hinted at the possibility of a twin-turbo V6 being offered.
It is predicted that the 2.0-litre turbo de Nysschen is talking about will be the same one from the Cadillac ATS and CTS which pumps out 272 hp. Additionally, the twin-turbo V6 is likely to be borrowed from the CTS V-Sport and ATS-V. As for the twin-turbo V8, it will be an entirely new engine produced by General Motors specifically for the Cadillac CT6. As a result of this, specifications remain unclear but it seems logical it will rival the twin-turbo V8 found in the Mercedes-Benz S63 AMG.