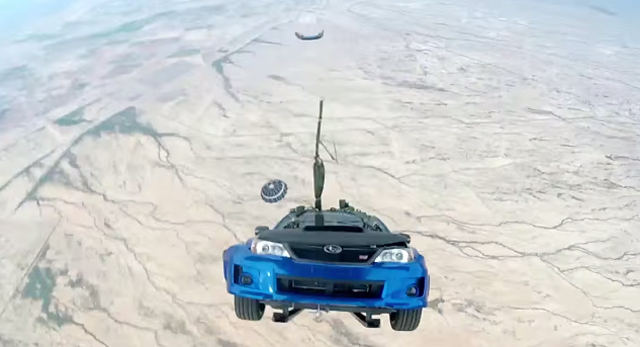 Remember the rather incredible scenes previewed in the extended Furious 7 trailer of cars parachuting out of an aircraft? Chances are, you thought it was all the work of CGI. Thanks to the following featurette for Furious 7 however, we know that the rather insane stunt was actually performed during filming of the latest Fast and Furious instalment.
[youtube]https://www.youtube.com/watch?v=F540eW4fs9Q&t=111[/youtube]
The cars were sent out the rear of the Lockheed C-130 Hercules aircraft at about 12,000 feet before the massive parachutes were opened at 5000 feet. Joining the cars on the various falls were three skydrivers strapped with high-definition cameras on their helmets. Additional footage was shot from a helicopter.
As you'd imagine, the resulting footage is quite extraordinary and this scene already promises to be one of the most eye-opening from the film.
In Fast 6, the Fast and Furious crew led by Dominic Toretto (played by Vin Diesel) took down Owen Shaw and in Furious 7, Owen's big brother Ian is seeking revenge on the Fast crew. Additionally, we know that Furious 7 has been filmed in a myriad of cities and countries around the world including Los Angeles, Abu Dhabi and Tokyo. The film will also return to its original heritage by featuring the underground Race Wars event in Los Angeles which featured in the first film.
Of course, Paul Walker passed away during filming for Furious 7 and has been replaced by his brother's alongside CGI. Further actors in Furious 7 include the likes of Vin Diesel, Michelle Rodriquez, Dwayne Johnson, Ludacris, Tyrese Gibson and Jordana Brewster. Some of the cool cars will include custom Dodge Challengers, a Subaru Impreza WRX STI, Ferrari 458 Italia, Bugatti Veyron, Audi R8 and even the W Motors Lykan Hypersport!