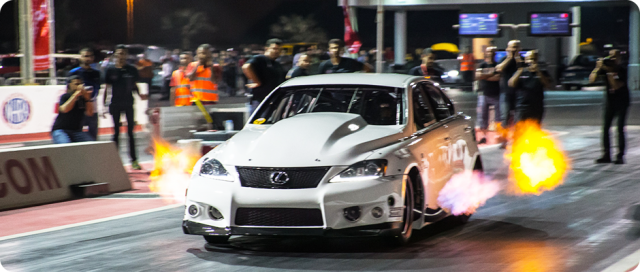 At a recent drag racing event at the Bahrain International Circuit, EKanno Racing's drag-specific Lexus IS F was involved in a truly huge crash which saw it fly into the fence and be torn to absolute shreds.
[youtube]https://www.youtube.com/watch?v=1NWibhly_0Q[/youtube]
While the following video is of extremely low quality, it does show that about a third of the way down the quarter mile run, the front-end of the Japanese sports car lifts up in a scene reminiscent to Mark Webber's Mercedes-Benz CLK GTR from the 1999 24 Hours of Le Mans.
The car then becomes completely airborn as it flies into the protective fencing. The impact destroys the bodywork with the chassis and cockpit of the car continuing over the fence. Incredibly, the driver managed to escape unhurt!