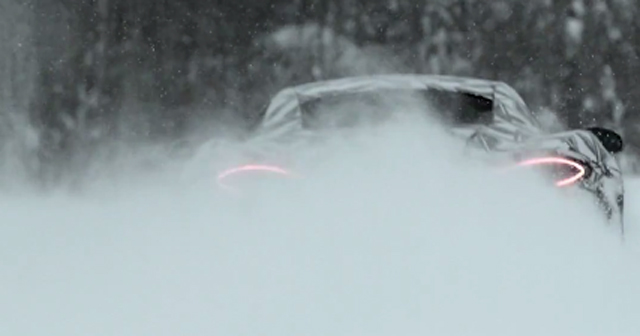 A new teaser video of the upcoming McLaren Sports Series has been released before the car makes its world debut at the New York Auto Show 2015 starting early next month. Alongside the release of the teaser image, a number of new details about the British firm's entry-level sports car have emerged.
The clip provides us with a great taste of what the 3.8-litre twin-turbocharged V8 engine will sound like when installed in the McLaren Sports Series. Additionally, the teaser video reveals a key design trait of the Sport Series; it will feature taillights very similar to the long, thin and curvaceous ones of the McLaren P1 hybrid hypercar.
[youtube]https://www.youtube.com/watch?v=h3pPVuhU2QA[/youtube]
While the same engine as the 650S will be used in the McLaren Sports Series, it will be detuned to deliver around the 550 hp mark. If new reports are to be believed, a plethora of different variants will be offered and are likely to produce even more power than that.
Road and Track suggests that following the reintroduction of the Longtail badge on the McLaren 675LT unveiled in Geneva, the badge will also find its way onto a hardcore variant of the McLaren Sports Series. Just like the 675LT, the Sports Series LT will feature a selection of different aerodynamic elements of the standard car as well as less weight and inevitably slightly more power. In fact, a figure around 600 hp is expected.
Previous reports have indicated that both a GT variant with a larger luggage compartment as well as a track-dedicated GTR version could also be introduced.