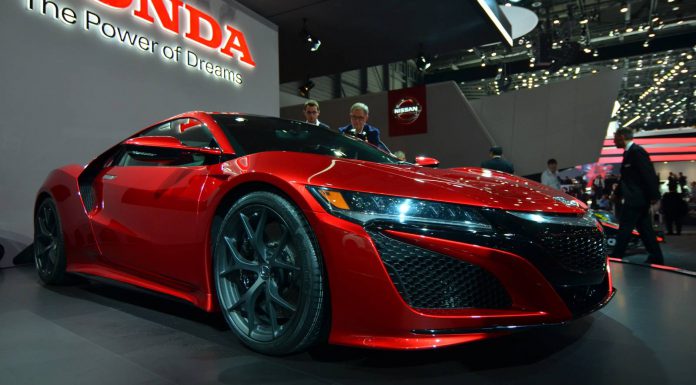 The new Honda NSX has made its European debut at the Geneva Motor Show 2015 earlier today. We headed in for a closer look!
Hot from its global debut in Detroit late last year, the much-anticipated production Honda NSX will made its European debut twenty-five years after the original NSX hit European shores. "The new NSX has been specifically created to deliver a 'new sports experience,' challenging conventional beliefs about the supercar segment," Honda offered in a statement.
The new NSX is powered by a twin-turbocharged double overhead cam V6 engine mated to a nine-speed dual-clutch transmission. In addition, three electric motors provide additional power, performance and increased fuel economy. Two of the electric motors provide power to the front wheels with the final motor providing its power to the rear wheels. This unique hybrid all-wheel drive system is one the keys to the NSX's performance.
By using a hybrid powertrain, Honda is able to offer utilize a new powetrain system called Sport Hybrid Super-Handling All Wheel Drive, which includes four different driving modes — Quiet, Sport, Sport+ and Track.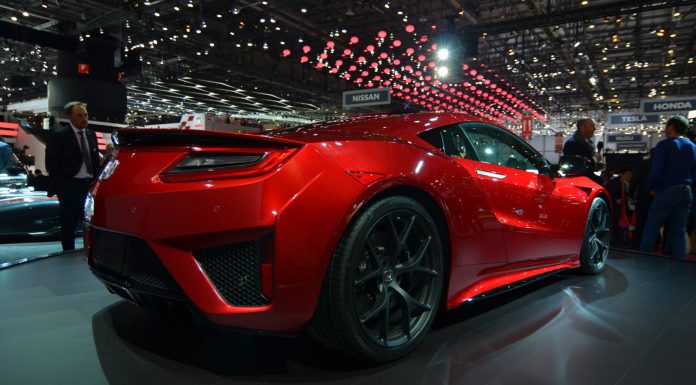 The NSX is constructed with a carbon fiber floor in order to keep weight to a minimum. The rest of the car is built from a combination of aluminum and high strength steel. Honda has chosen 19×8.5 inch wheels on the front axle and 20×11 wheels at the rear. Tire sizes are are 245/35 and 295/30, respectively.

For all the latest from the Geneva Motor Show 2015, take a look at our dedicated news feed or follow us on Facebook, Twitter, Instagram or Google+.