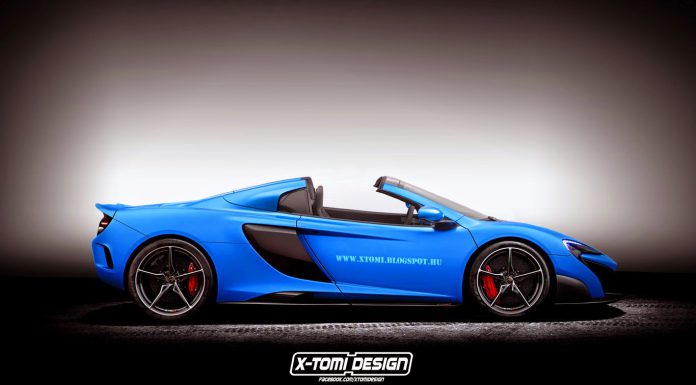 On the back of the McLaren 675LT being unveiled before the Geneva Motor Show 2015, X-Tomi Design has decided to render the new British supercar in convertible 'Spider' guise.
While it remains to be seen if McLaren will produce a drop-top variant of the 675LT, it is certainly a possibility considering both the 12C and 650S have been/are available as convertibles. Additionally, it seems inevitable that a Ferrari 488 GTB Spider will be produced so McLaren's 488 GTB rival could certainly be made to rival such a car.
Whatever the case may be, this is what we know about the 2015 McLaren 675LT coupe. It has been honed to be lighter, faster and more aerodynamic to offer a more driver focused experience and be exceptional on track. Offered as a Coupé only (so far), the 675LT will be the most track-focused, yet road legal, model in the McLaren Super Series.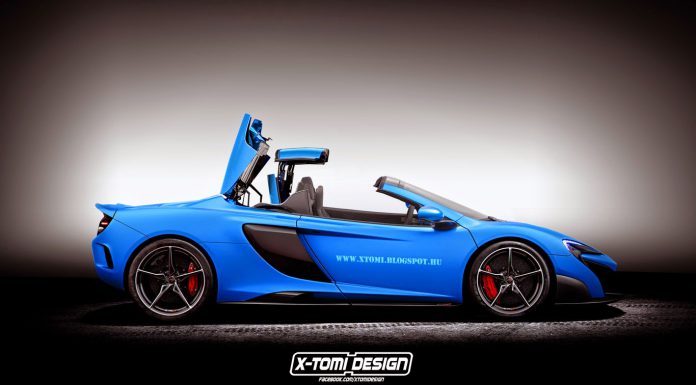 McLaren managed to strip the 675LT of 100 kilograms, a substantial amount of weight considering the 650S certainly is not a heavy car. The weight is now down to a class leading 1,230 kilograms, although this is a dry figure. To achieve this McLaren have even taken out the air-conditioning system, although it can be specified as a no-cost option. The interior has also been revised to enhance weight saving. The carbon shelled seats of the P1 have been installed.
As the name suggests, the power figure has been increased over that of the 650S courtesy of significant improvements on the M838TL engine in the 675LT. The 3.8-litre V8 now features 50 per cent new components over the 650S and power is now rated at 666 horsepower, an improvement of 25 horsepower over the 650S.
All the changes combined mean that the McLaren 675LT packs some serious punch. 0-100 km/h (62 mph) is done in 2.9 seconds and 200 km/h (124 mph) is dealt with in a staggering 7.9 seconds. The added downforce has not limited top speed, the 675LT will power on to hit 330 km/h (205 mph).
[Via X-Tomi Design]