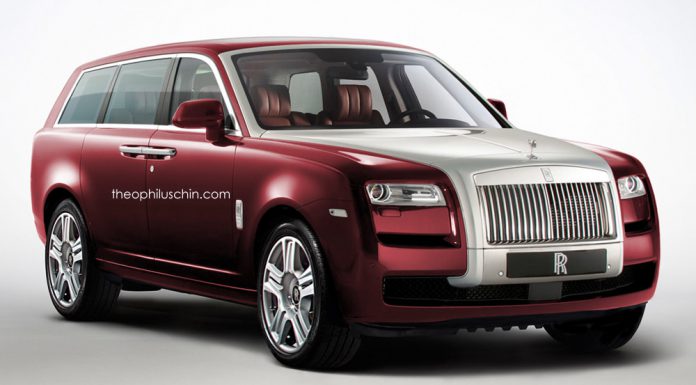 Just over a week ago, it was confirmed that a Rolls-Royce SUV was in development. On the back of this announcement, rendering expert Theophilus Chin has decided to release a number of renderings of how the Rolls-Royce SUV could look.
As no test mules have been spied testing, it remains completely unclear how the Rolls-Royce SUV will look. With that being said, the British firm's staple three models – the Phantom, Ghost and Wraith – all look very similar to each other so it wouldn't be at all surprising if the luxurious SUV features many almost identical design elements.
With that in mind, Theophilus Chin has rendered the car with a traditional modern Rolls-Royce front fascia with a prominent chrome grille, the free-standing Spirit of Ecstasy badge as well as standard Rolls-Royce headlights. Elsewhere, larger wheels have been fitted alongside a higher suspension system. Of course, the body design of the car is dramatically different to other Rolls-Royce models with a higher cabin and a thoroughly revised rear end.
When initially confirming the car, Rolls-Royce said it was urged by many customers to develop such a vehicle and reiterated the point that the car will provide all the luxurious features which have made Rolls-Royce products synonymous with society's elite.
According to chief executive Torsten-Muller Oetvoes, "This car will embody all the values and capabilities that drove our two Founding Fathers to secure Rolls-Royce's reputation, early last century, by taking top honours in rigorous overland adventures such as the Scottish Reliability Trials, the London to Edinburgh event and the Alpine Trials."
[Via Theophilus Chin]