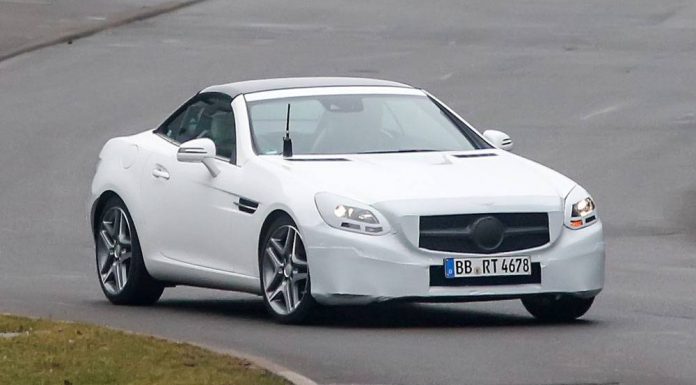 2016 Mercedes-Benz SLK facelift spy shots have emerged showing a lightly camouflaged prototype out and about during its latest stint of testing.
Before talking about the design of the new car, it is worth mentioning its name change. As part of the new Mercedes-Benz nomenclature, the Mercedes-Benz SLK will become the Mercedes-Benz SLC. As such all variants will start with SLC including the eventual next AMG derivative.
Visually, it is immediately from these Mercedes-Benz SLC facelift spy shots that the new car will adopt a different front fascia incorporating a restyled grille as well as a new pair of headlights. Due to the camouflage of the white test mule featured however, it is hard to say just what elements of the bumper, grille and headlights will be tweaked and how dramatic the changes will be.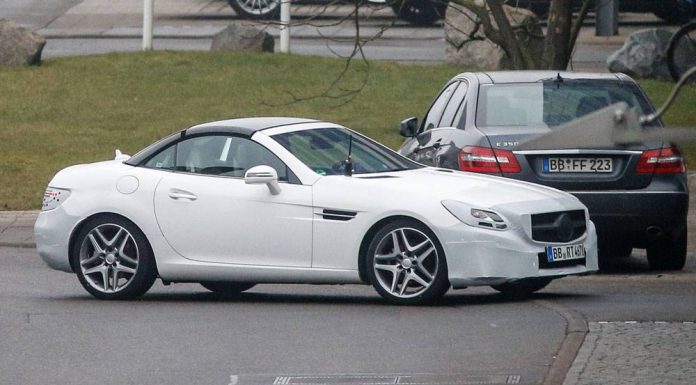 Beyond the revised front end, tweaks will also be made to the rear with it set to feature different taillights, a new bumper as well as modified exhaust tips. Unfortunately our spy photographer was unable to snap any pictures of the refreshed rear. Before the Mercedes-Benz SLC hits the market, the interior will also be tweaked.
Finally, a number of new engines are likely to feature across the Mercedes-Benz SLC model range with the 5.5-litre V8 currently used by the SLK 55 AMG likely to be ditched in favour of the firm's new 4.0-litre twin-turbocharged eight-cylinder.