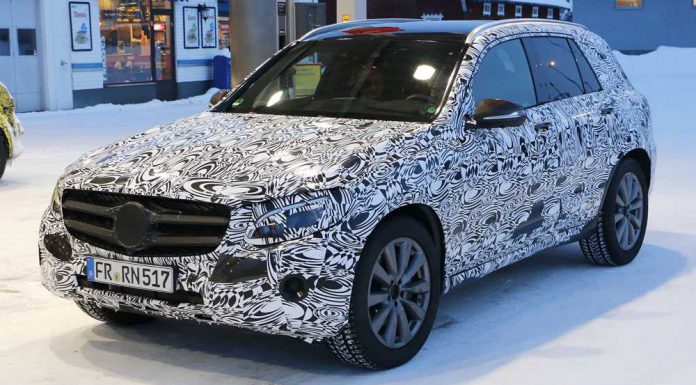 Later this year, it is believed that the brand new Mercedes-Benz GLC will be released as the successor to the GLK. Now a new spy video has emerged of a heavily disguised prototype testing in Stuttgart, Germany.
While the following video doesn't provide us with any detailed or up-close shots of the car, it does give us our first look at the Mercedes-Benz GLC on the move. Additionally, the taillights can be seen illuminated alongside the LED license plate lights.
[youtube]https://www.youtube.com/watch?v=6hp41n7RXBY[/youtube]
As with previous GLC test mules, it is believed that this one features a longer wheelbase and wider track than the existing GLK. As a result, the entire body of the GLC will be slightly larger than the outgoing GLK to further distinguish it from the Mercedes-Benz GLA. Two of the clear giveaways for the stretched wheelbase are the longer bonnet as well as the axle being pushed forward.
As a result of the longer wheelbase, the new Mercedes-Benz GLC will feature more interior space than the current GLK and should be similar in size to the BMW X3 and Audi Q5. Underpinning the GLC will be a similar mechanical package to the C-Class and the SUV will consequently be made available in right-hand drive for markets like the UK, Australia and Japan.
It remains to be seen if an AMG variant of the Mercedes-Benz GLC will be created but it is expected to be made available with a turbo 1.8-litre petrol four-cylinder and a turbo 2.1 litre four-cylinder diesel.