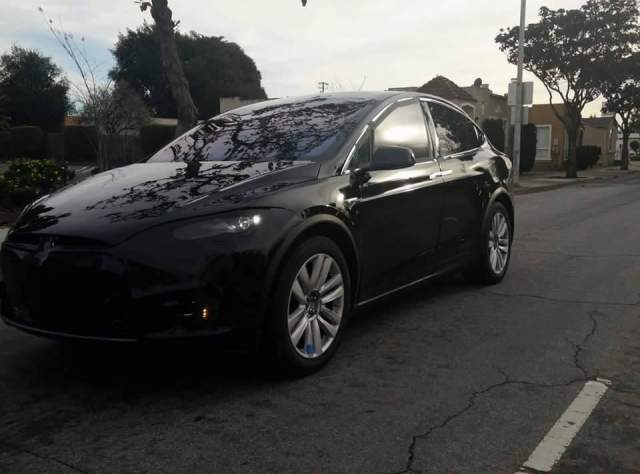 A light disguised Tesla Model X prototype has been spied in the midst of testing in California. The production-spec Model X is expected to launch late this year and the following test mule appears to be adorned with its production skin.
With that in mind, black camouflage can be found across the headlights and taillights which will seemingly be modified compared to the units fitted to the original Tesla Model X concept car. Broadly speaking, the design of the Model X resembles the Model S quite closely albeit on a slightly enlarged scale with a significantly higher cabin.
For power, the Tesla Model X will be available with the same range of batteries as the Model S. Consequently, the base Model X will utilise a 60kWh battery pack delivering a total of 380 hp and capable of powering the world first electric SUV for over 300 km. Elsewhere, the Tesla Model X will be available with the slightly larger 85 kWh battery delivering the same power but providing slightly improved range.
Finally, the range-topping Tesla Model X P85D will be available with the same dual-motor system as found in the most expensive Model S variant. Consequently, it will produce 691 hp and have a range around 380 km.
Beyond the various powertrains, it has been confirmed that the Tesla Model X will feature seven seats and utilise the unique 'falcon wing' doors of the original Model X concept.
[Via Tesla Motors Club]