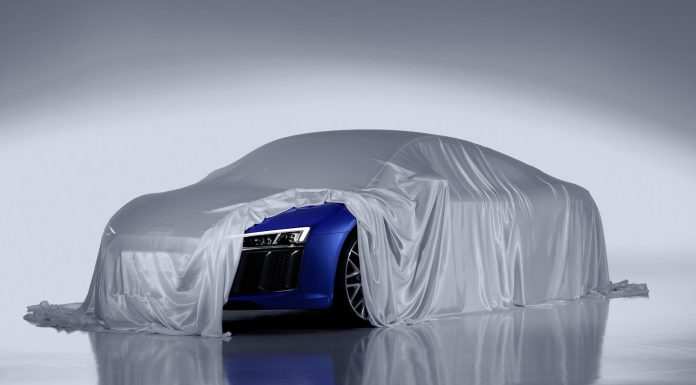 The first teaser image of the next-generation 2016 Audi R8 has just been revealed before the car is unveiled at the Geneva Motor Show 2015 early next month. The teaser image provides a glimpse at the newly designed laser headlights which will be available on the new Audi R8.
From a visuals standpoint, the teaser image shows that the 2016 Audi R8 which feature significantly sharper and more aggressive headlights than the outgoing car. Additionally, the front air vents will be characterised with a honeycomb pattern and prominent vertical slates inspired by the Audi Sport Quattro Concept of 2013. Interestingly, the R8 pictured looks dramatically different from the recently leaked image purportedly showing the new car indicating that that image wasn't genuine.
Beyond releasing the teaser, the German marque confirmed that every second-gen R8 will ship standard with LED headlights which each headlight featuring 37 individual LEDs. Laser high-beams will be available at an additional cost.
Elsewhere, there is still some debate about what engines will be available for the next Audi R8. Up until last week, the word on the street was that both the 4.2-litre V8 and 5.2-litre V10 engines currently used will be updated and available on the new R8. The latest reports however indicate that the V8 has been ditched entirely meaning a 580 hp V10 could initially be the sole engine choice.
Further down the road, there's a possibility the new Audi R8 could be available with a twin-turbocharged V6 or four-cylinder engine combined with an electric motor.