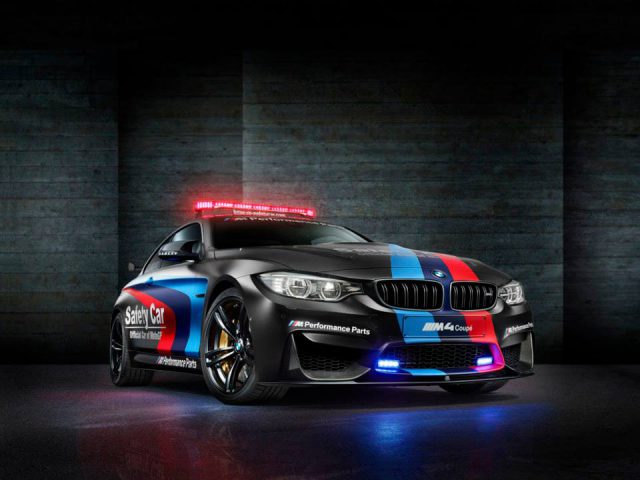 BMW has revealed the stunning BMW M4 Coupe to head up the safety car fleet for this year's MotoGP championship before its official unveiling at next month's Geneva International Motor Show – and it's a true extra high performer.
For this stunning BMW M4 Coupé, finished in black with the bold red and two-tone blue M-sport livery and modified exclusively for the safety car role, has a new water injection power boost system to make it even quicker for its racetrack role than the already impressive stock machine.

In the safety vehicle fleet it is joined by the BMW M3 and BMW M6 Gran Coupé as Official Safety Cars, with other BMW official vehicles including a BMW M5 for the Safety Officer, the BMW M550d xDrive Touring and the new addition of the BMW X5 M as Medical Cars, while a brace of BMW S 1000 RRs will be drafted in as safety bikes.
The stock M4 is powered by a high-revving 3.0-litre in-line six-cylinder TwinPower Turbo engine producing 431 hp and 550 Nm maximum torque over a broad rev band for 0-100 km/h in 4.3 seconds and top speed limited to 250 km/h.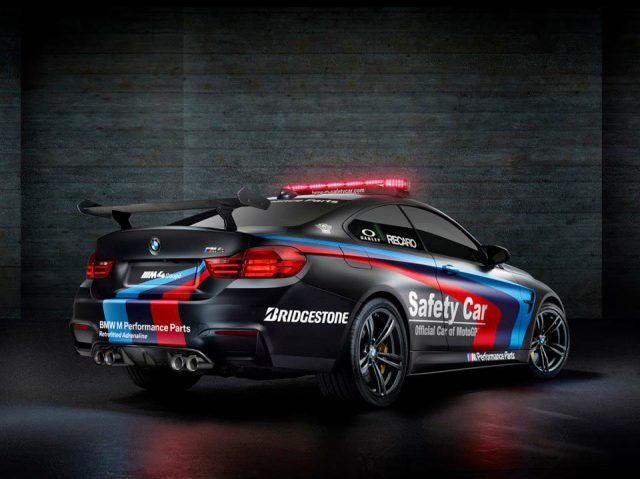 But for the racetracks of the world where the top MotoGP riders battle for points and positions, the Safety Car needs impressive performance too and so the BMW M GmbH engineers have installed an innovative water injection system, considerably increasing the engine's performance as it allows higher performance parameters than normally achievable with thermal restrictions.
As well as increasing performance and torque, it also ensures outstanding efficiency with benefits in terms of full-load fuel consumption and exhaust emissions, opening up possibilities for use in future production models.